CINEART Spain: 'Six Points About Emma'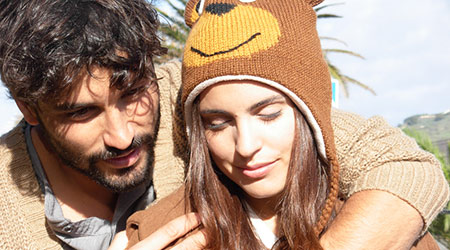 Director Roberto Pérez Toledo will present in person Six Points About Emma at Reelabilities: NY Disabilities Film Festival.
Pragda comes to New York's emblematic cinemas with CINEART Spain. It will tour NYC's most dynamic boroughs while showcasing one award-winning Spanish film and visiting a landmark film house every month. CINEART Spain aims to discover new Spanish film lovers by delivering terrific Spanish cinema to all corners of New York. Already an ardent Spanish film cineaste? Join Pragda in exploring New York neighborhoods and iconic cinema institutions.
CINEART Spain's February film, Six Points About Emma, directed by Roberto Pérez Toledo, screens at Reelabilities: NY Disabilities Film Festival, the country's largest film festival showcasing films about disabilities and films by artists with disabilities. Now in its fifth year, the film festival, which prides itself on its accessibility, will screen in 23 locations in all five boroughs. All of the films are captioned, and it's the only festival in New York that prints film programs in Braille and features audio descriptions for the blind.
Six Points About Emma (Seis Puntos sobre Emma)

Roberto Pérez Toledo, Spain, 2012. In Spanish with English subtitles.
Emma is blind but she believes she can see everything very clearly; she wants to become a mother. She yearns it obsessively. After finding out her boyfriend is not able to get her pregnant, she breaks up with him and goes on a search for the perfect sperm, without falling in love or getting emotionally involved. Sounds simple enough but soon she will find out that her blindness affects more than just her sight.
On Thursday, March 7th at 6:30 pm at Mid-Manhattan Public Library.
On Friday, March 8th at 10:30 am & Saturday, March 9th at 7:30 pm at The JCC in Manhattan.
On Monday, March 11th at 7:30 pm at Jacob Burns Film Center.
On Tuesday, March 12th at 7:00 pm at Lehman College.
On Friday, March 15th at 7 pm at Kean University.
With director Roberto Pérez Toledo in person. View trailer. Tickets on sale on February 7th.
Film
New York
Mar 7, 2013 – Mar 15, 2013
Venue
More information
Credits
Organized by Pragda. Co-presented by Reelabilities: NY Disabilities Film Festival, Spain Culture New York and SPAIN arts & culture. Special thanks to Instituto Cervantes New York.