SJFF presents 'Angel of Budapest'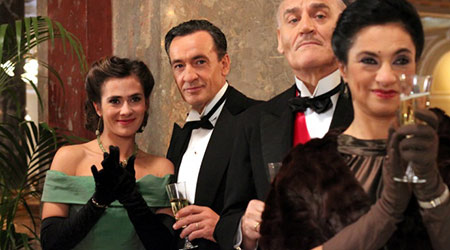 The Seattle Jewish Film Festival presents Angel of Budapest, A drama about Spanish resistance ardor and conscience.
Angel of Budapest (El ángel de Budapest)

Luis Oliveros, Spain, 2011, 109 minutes. In Spanish with subtitles.
Thanks to Spielberg, we know about Oskar Schindler. But the world remains largely ignorant of Ángel Sanz Briz, a Spanish diplomat in Hungary during WWII, who saved thousands of Jews by lodging them in Spanish safe houses in Budapest and granting them "Sephardic" nationality.
Special guests: Producer José Manuel Lorenzo and Honorable Consul of Spain Luis Fernando Esteban.
The annual Seattle Jewish Film Festival (SJFF) is a 10-day international cinematic exploration and celebration of Jewish life, global cultures, identity, history and filmmaking for everyone. SJFF is the largest Jewish event in the Pacific Northwest and a mainstay of Seattle's arts and cultural scene. The festival annually draws enthusiastic film-loving fans from the Jewish and general communities. SJFF is the only film festival in this region featuring the best Israeli and Jewish-themed, international, independent and award-winning films.
A reception will follow at 8:30 pm at Kaspar's. Buy tickets online or call 206-324-9996.
Film
Seattle
Mar 6, 2013
06:00 pm
Venue
Phone
206-324-9996
More information
Credits
Organized by The Seattle Jewish Film Festival In collaboration with the Honorary Spanish Consulate in Seattle, SPAIN arts & culture, the SPAIN-USA Foundation, the Spanish Tourist Office in Los Angeles, the Instituto Cervantes, Dragados USA, and the Spanish and Portuguese Department at the University of Washington. Film sponsored AJC Seattle