'Deep Blue' by Javier Velasco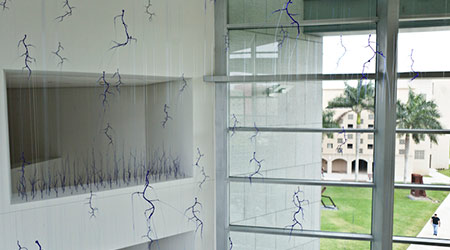 Spanish multimedia artist has been commissioned to do a site-specific work in the atrium of the Frost Art Museum.
Javier Velasco is well-known and appreciated due to his multidisciplinary nature. Most recently, he has been using blown glass to create beautiful works that are allegories to the ephemeral, and speak to the fragility of nature and the environmental concerns of today.
He was born in the province of Cadiz in 1963. His artwork has evolved as he gained some knowledge from incursions within other disciplines —the analysis of feelings and emotions being a permanent line of work. In this field he produced video installations and performances that led him to exhibit his artwork in the MOMA PS1 together with the deceased Harald Szeemann (I will write the history of tears) and the Seville Biennial (Lluvia de Lágrimas), the Venice Biennial (Ophelia and Ulysses), among many other interventions in Fairs and Museums worldwide.
In the exhibition at the Frost Museum, he takes advantage of the spectacular dimensions of the entrance hall in order to invade it with an installation consisting of a complex framework of blue glass strands that emerge from a piece of corals of the same color and material that almost touch the audience and are suspended from the ceiling. Poetry, fragility and light modulation enable this changing and subtle piece of art to recall a fantastic world, almost impossible to imagine.
Opening reception on February 27th at 6 pm. Presented in conjunction with the 2013 exhibition series Commemorating 500 Years, 1513-2013: Spain, Florida and the Caribbean.
Visual arts
Miami
Feb 27, 2013 – Dec 31, 2013
Venue
The Patricia & Phillip Frost Art Museum, 10975 SW 17th Street, Miami, FL 33199
View on Google Maps
Phone
305-348-2890
More information
Credits
Organized by the Patricia & Phillip Frost Art Museum.
Image: Javier Velasco, Deep Blue, 2013, Murano Glass, courtesy of the artist.