Cine-Club: 'Pà Negre' ('Black Bread')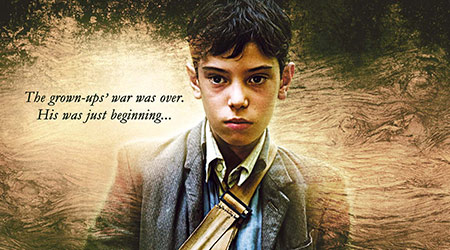 SPAIN arts & culture CINE-CLUB is back with Black Bread, the Spanish Film Academy's entry at the 84th Oscars Academy Awards and the absolute winner at the 2010 Goya Awards.
The grown-ups' war was over. His was just beginning…
Black Bread is about the moral devastation of civilian populations in times of war. Although it features characters from among both the victors and the vanquished living together in close quarters, this is not a film about a clash between winners and losers. It is, rather, a fine-grained study of those characters' emotions. Only through their feelings do we begin to discern, far from the battlefield, the war's terrible consequences. It's almost as if we had shone a light upon an old photograph and in one corner noticed the faded image of some grey figures and then proceeded to tease out their inner lives, their contradictions and daily sufferings, all the time resisting the temptation to romanticize them, to treat them as heroes, or, above all, to stand in judgment.

—Agustí Villaronga, Pà Negre's director.
Pà Negre (Black Bread)

In the war-ravaged Catalan countryside of the early 1940's a local man is accused of murder and his son sets out to find the truth. Eleven-year-old Andreu stumbles upon a crushed wagon in the underbrush at the foot of a high cliff and witnesses the dying moments of the man and boy inside. When police suspect Andreu's father of foul play he goes into hiding and Andreu is sent to live with relatives. There, the frightened boy creates a fantasy life but is forced to confront a world of adult deception, festering hatreds and the war's monstrous consequences.
Drama, Spain, 2010, 108 minutes. Based on Pa negre by Emili Teixidor. Written and directed by Agustí Villaronga. Produced by Isona Passola. Cast: Francesc Colomer, Marina Comas, Nora Navas, Roger Casamajor, Laia Marull. Eduard Fernández, Sergi López. Cinematography by Antonio Riestra. Art Direction by Ana Alvargonzález. Film editing by Raúl Román. Costume Design by Mercè Paloma.
In Catalan with English subtitles. RSVP required: Get your free tickets. Doors open at 6:30 pm. Presentation and screening at 6:45 pm.
Film
Washington, D.C.
Feb 7, 2013
06:30 pm
Venue
Embassy of Spain‎, 2375 Pennsylvania Avenue Northwest, Washington D.C., DC 20037
View on Google Maps
More information