'Fortuny y Madrazo: An Artistic Legacy'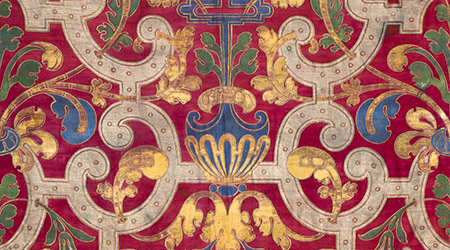 The exhibition explores the work of Spanish artist and designer Mariano Fortuny y Madrazo (1871-1949) in the context of the family of artists, curators and collectors who came before him.
Curated by Oscar de la Renta, chairman of the Institute's board of directors, Queen Sofía Spanish Institute presents the first exhibition to examine the impact of both the matrilineal and paternal artistic legacies on Fortuny's groundbreaking work in numerous fields, from textile and clothing design to visual arts, and elaborating on the origins and influences that shaped his extraordinary career.
Fortuny y Madrazo: An Artistic Legacy brings together a stunning array of Fortuny's work, from the luxurious textile and clothing designs for which he is world renowned to paintings, lithographs, and photographs.
Artwork by Mariano Fortuny y Marsal, as well as paintings by members of the Madrazo family, demonstrates the strong influence of Fortuny's predecessors, who imbued him with a unique historical perspective and a deep appreciation for their artistic legacy. Sumptuous fabrics designed by Fortuny, and still produced today, will provide a spectacular backdrop to the show.
Unprecedented loans include objects from Madrid's Museo del Traje and Comunidad de Madrid, the Museo Fortuny in Venice, The Hispanic Society of America, and The Museum of the City of New York. The exhibition will also feature significant pieces from leading private collectors Regina Drucker, Keith McCoy, the Riad family, Sandy Schreier, and Mark Walsh.
Gallery hours: Monday-Thursday from 10 am to 6 pm, Friday from 10 am to 8 pm, and Saturday from 10 am to 5 pm. Don't miss author Brian D. Coleman's lecture Fortuny Interiors on January, 30th at 6 pm.
RSVP required: call 212-628-0420 or email
Visual arts
New York
Nov 30, 2012 – Mar 30, 2013
Venue
Phone
212-628-0420
More information
Credits
Organized by Queen Sofia Spanish Institute.