Screening of 'Los Tarantos'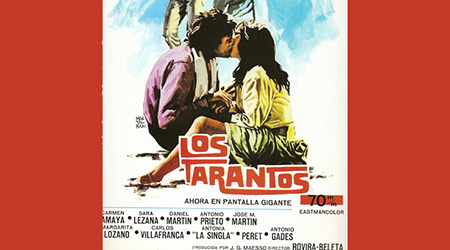 50th anniversary screening of this classic flamenco drama directed by by Francisco Rovira Beleta and inspired by Romeo and Juliet and possibly West Side Story.
Los Tarantos is characterized by a sexy, ritty, Catalan gitano style of dancing and marks the final appearance of the legendry Carmen Amaya in the role of Angustias.
The star-crossed lovers are Sara Lezana and the mesmerizing Antonio Gades, best remembered for his dancing (and acting) in Carlos Saura's flamenco trilogy that began with Carmen. The film was nominated for Best Foreign film in 1963 and has not been shown for many years.
Los Tarantos

Spain, 1963, 92 minutes. Directed by Francisco Rovira Beleta.
Actress Maria Esteve, the daughter of the iconic Gades, will make a personal appearance at the screening. Buy tickets online.
Film
New York
Feb 3, 2013
03:30 pm
Venue
Elinor Bunin Munroe Theater, Lincoln Center, 70 Lincoln Square #4, New York, NY 10023
View on Google Maps
Phone
212-875-5610
More information
Credits
With the support of Spain Culture New York-Consulate General of Spain: member organization of the network Spain Arts and Culture. Special thanks to Filmoteca AECID and Filmoteca de Catalunya.