Screening of 'Me, Too' at the II Annual 'ReelAbilities'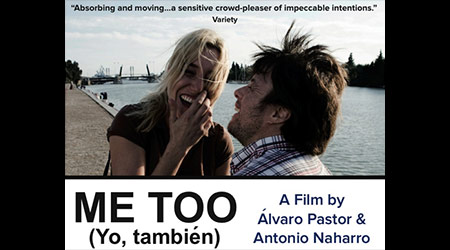 ReelAbilities is the largest festival in the country dedicated to promoting awareness and appreciation of the lives, stories and artistic expressions of people with different disabilities.
Initiated in New York City in 2007, the festival presents award winning films by and about people with disabilities in multiple locations throughout each hosting city. Post-screening discussions and other engaging programs bring together the community to explore, discuss, embrace, and celebrate the diversity of our shared human experience.
Me, Too

Spain, 2011, 103 minutes. Directed by Antonio Naharro and Álvaro Pastor. In Spanish with English subtitles.
Daniel, a recent college graduate with Down Syndrome forges a strong bond with vivacious workmate Laura, but their burgeoning relationship turns complicated when he professes his love to her. This gripping narrative questions modern relationships and conceptions of "normality" as the couple grapples with their need to connect.
Buy tickets online.
Film
Washington, D.C.
Feb 10, 2013
02:00 pm
Venue
Venue
Angelika Film Center at Mosaic, 8200 Strawberry Ln, Fairfax, VA
Phone
571-512-3299
More information
Credits
ReelAbilities Traveling Program is presented with the support of The Saul Schottenstein Foundation B.