'Impressions of Europe: 19th-Century Vistas by Martín Rico'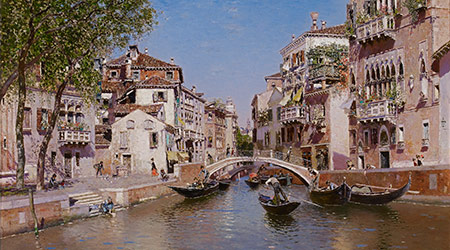 As part of the continuing collaboration between the Meadows Museum and the Museo Nacional del Prado, the Meadows will host a monographic showing of Rico's work, marking the first retrospective ever to be presented on the artist.
The Spanish painter Martín Rico y Ortega (1833-1908) was one of the most important artists of the second half of the nineteenth century in his native country, and enjoyed wide international recognition as well, especially in France and the United States. From his earliest works painted in the mountainous countryside outside of Madrid to the later works he painted in Paris and Venice, throughout his life Rico stayed true to his love of painting en plein air, despite his evolving artistic style.
Impressions of Europe: 19th-Century Vistas by Martín Rico will highlight the breadth of Rico's career with 106 works of art, including paintings, drawings, and sketchbooks depicting urban and natural landscapes of Switzerland, France, Germany, Italy, and his native Spain. Research conducted in preparation for the exhibition uncovered new information about Rico and his work, leading to the compilation of his first complete biography, which will be included in the exhibition's catalogue.
Martín Rico is known as one of Spain's greatest landscape masters. Praised for capturing a unique luminosity in his representations of locations throughout Europe, Rico painted his most iconic works during his time in Venice, where he worked from the 1870s through the end of his life in 1908. Because Venice was a required stop on most "Grand Tours," Americans were particularly drawn to Rico's Venetian scenes and purchased them in abundance as souvenirs of their trips. The Meadows-Prado partnership gives a unique opportunity for these works to be shown alongside of the works that remained in Europe, including the Prado's unmatched collection of paintings and newly acquired collection of forty sketchbooks, which have never before been publicly shown.
Rico championed the technique of painting en plein air, famously painting while stationed in gondolas throughout the Venetian canals. Widely recognized by key American collectors in the nineteenth and early twentieth centuries, including Andrew Carnegie, Henry Clay Frick, William H. Stewart, and Henry Walters, Rico's work is represented in the collections of the Metropolitan Museum of Art, the Brooklyn Museum, the Art Institute of Chicago, and others.
This is the fourth exhibition organized through the Meadows partnership with the Prado, an unprecedented collaboration between a university art museum and a major international art institution.
Lecture by Javier Barón, Head of the Department of 19th-Century Painting, Museo Nacional del Prado on March 7th at 6 pm.
Museum hours: Tuesday-Saturday from 10 am to 5:00 pm, Thursday until 9 pm, and Sunday from 1 pm to 5 pm.
Visual arts
Dallas
Mar 10, 2013 – Jul 7, 2013
Venue
Phone
214-768-2516
More information
Credits
This exhibition and project have been organized by the Museo Nacional del Prado and the Meadows Museum, and are funded by a generous gift from The Meadows Foundation.
Image: Martín Rico y Ortega (Spanish 1833-1908), Rio San Trovaso, Venice, 1903, oil on canvas. Meadows Museum, SMU, Dallas. Photo by Dimitris Skliris.