CINEART Spain: 'Arraianos'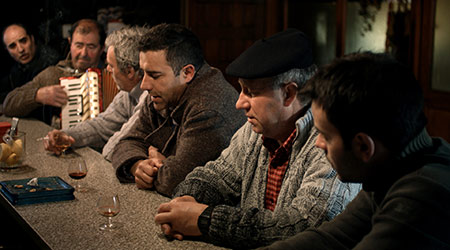 This new film program showcases one award-winning Spanish film presented in hallmark movie theaters in NYC's most dynamic boroughs.
Pragda is arriving at New York's emblematic cinemas with CINEART Spain. It will tour New York's most dynamic boroughs while showcasing one award-winning Spanish film and visiting a landmark film house every month.
CINEART Spain aims to discover new Spanish film lovers by delivering terrific Spanish cinema to all corners of New York. Already a Spanish film buff? Join Pragda in exploring New York neighborhoods and iconic cinema institutions.
CINEART Spain kicks off its year long program with a screening of Arraianos, directed by Eloy Enciso Cachafeiro, at the Museum of the Moving Image on January 5th.
Arraianos

Spain, 2012, 67 minutes. In Galician and Portuguese with English subtitles. Directed by Eloy Enciso Cachafeiro.
The inhabitants of a small village lost in the woodlands between Galicia and Portugal live and work in a quiet routine. From time to time, brief conversations arise amongst them. Surrounded by an endless forest, incapable of finding a way out, the Arraianos ask themselves about the reasons for their confinement, wondering if such things as sunlight, free will or a horizon really exist. One day, a stranger arrives; the possibility of change, a way out, a means of purification… What is left after the end, when all has been consumed? Somewhere between reality and fable, the Arraianos play out their lives to make a portrait of the rural world and its obstinate resistance to disappear, a picture of life as it is.
With director Eloy Enciso in person. The film will be part of the Museum's prestigious First Look screenings and will be followed by a Q&A with the filmmaker. Free with Museum admission. Order online or call 718 777 6800.
Film
New York
Jan 5, 2013
07:30 pm
Venue
Phone
718-777-6888
More information
Credits
Organized by Pragda in collaboration with the Museum of Moving Image.