'This Is Not a Museum: Portable and Lurking'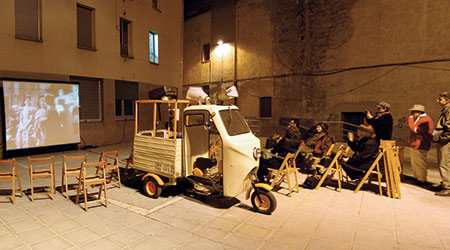 The exhibition has arisen as an exercise in documentation and reflection on the construction of mobile devices as elements for an expanded conception of the museum, or in some cases as an alternative to it.
The quest to subvert the logic of the museum through the construction of mobile devices has a long tradition. Since Marcel Duchamp's Boîte-en-valise (1941), many artists have tried to move the field of aesthetic experience beyond the limits of the museum.
In recent years, museums have co-opted this strategy with devices intended to make art "portable." Instead of extending the linear feet of the museum's walls, the devices in This Is Not a Museum make nomadic exhibitions as a platform for direct participation.
This Is Not a Museum: Portable and Lurking/Esto no es un museo. Artefactos móviles al acecho showcases more than 50 of these projects from various cities around the globe. Originally curated by Martí Peran, a faculty member of the University of Barcelona, the exhibition has been presented in Barcelona (ACVic, 2011) and Ljubljana (Slovene Ethnographic Museum, 2012). Produced by AC/E and ACVic. Arts Contemporànies.
Opening Reception: Wednesday, January 9, 5-7 pm. Subject related workshops will run from January 23 through January 26. MobileMovie Film Festival in conjunction with this exhibition on Wednesday, January 9th at 7 pm. Gallery 31 is open during gallery hours and is free to the public.
Visual arts
Washington, D.C.
Jan 9, 2013 – Jan 26, 2013
Venue
Phone
202-639-1700
More information
Credits
Produced by ACVic, Centre d'Arts Contemporànies, and Acción Cultural Española AC/E. Organized by the Corcoran Gallery of Art in collaboration with the Embassy of Spain in the U.S.