Kike Besada's solo exhibition in New York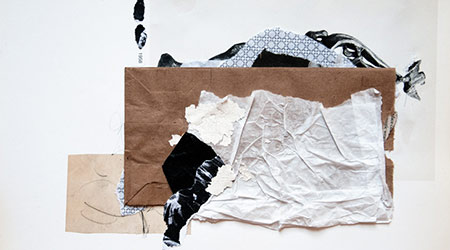 Spanish artist Kike Besada's first solo exhibition opens at Orchard Windows Gallery.
Kike Besada's work seeks the beautiful in the commonness of the random and street-found paper scraps, forgotten documents and unintended graphic compositions.
Kike reinterprets mundane and day-to-day documents and salvaged old papers and memorabilia through the lens of abstract aesthetics in order to transcend and deconstruct the document's original purpose and function. While his works come from diverse print material, the mixed media collages strangely seem to maintain the integrity of the original books, notes, and other documents he works with.
Exhibition opens Monday, January 7 from 6pm to 9pm. Free and open to the public. Gallery hours: 11 am to 6 pm daily. View Kike Besada's SPAINRED profile.
Visual arts
New York
Jan 7, 2013 – Jan 13, 2013
Venue
Phone
917-995-1001
More information
Credits
Organized by Orchard Windows Gallery.