'Xavier Montsalvatge: Half Violin, A Seat and a Piano'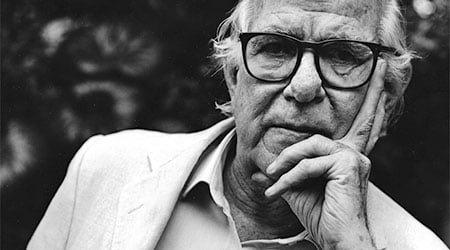 A documentary based on interviews with people who knew Xavier Montsalvatge to commemorate the Centenary of his birth.
Testimonies with directors, actors, musicologist, biographers, critics, family members, friends, and the composer himself produce a polyhedric portrait of Montsalvatge in the three facets that shaped his life and work: his personality (symbolized by half violin), his work as a critic (a seat), and the composer (piano).
Presented by: Javier Rioyo, director of Instituto Cervantes New York, Àlex Susanna, deputy director of the Institut Ramon Llull, Xavier Montsalvatge Pérez, president of the Associació Xavier Montsalvatge compositor, Ivo Arnús Montsalvatge, grandson of the composer, Jesús Alvira, exhibiton curator and director of the documentary.
Followed by the opening of the exhibition Montsalvatge. This event is part of Monsalvatge Days to commemorate the centennial of the birth of Catalan composer Xavier Montsalvatge (March 11, 1912, Girona – May 7, 2002, Barcelona).
Film
New York
Nov 15, 2012
06:30 pm
Venue
More information
Credits
Organized by the Associació Xavier Montsalvatge Compositor, Acción Cultural Española and The Institut Ramon Llull in collaboration with the Consulate General of Spain in New York and the Instituto Cervantes New York.