'Wrinkles' ('Arrugas') at the AFI European Union Film Showcase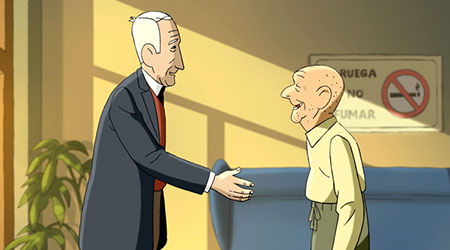 Filmmaker Ignacio Ferreras brings Paco Roca's award-winning graphic novel to the big screen in this exquisitely rendered animated film.
One of the most accomplished Spanish films, from any genre, of recent years.

—Neil Young, The Hollywood Reporter
It's funny, it's sad, it's sweet, it's heartbreaking. It's brilliant.

—Peter Bradshaw
Based on Paco Roca's comic of the same title (2008 National Comic Prize), Wrinkles is a 2D animated, feature-length film for an adult audience. Wrinkles portray the friendship between Emilio and Miguel, two aged gentlemen shut away in a care home. Recently arrived Emilio, in the early stages of Alzheimer, is helped by Miguel and colleagues to avoid ending up on the feared top floor of the care home, also known as the lost causes or "assisted" floor. Their wild plan infuses their otherwise tedious day-to-day with humour and tenderness, because although for some their lives is coming to an end, for them it is just beginning.
Screenings
Saturday, November 17 at 3:05 pm
Sunday, November 18 at 5:20 pm
Wrinkles (Arrugas)

Genre: Animation. Spain, 2011, 89 minutes. Directed by Ignacio Ferreras. Script: Ángel de la Cruz, Paco Roca, Ignacio Ferreras, Rosanna Cecchini. Based on the comic Arrugas, by Paco Roca. Published by Delcourt/Astiberri.
Character Design: Paco Roca. Music: Nani Garcia. Sound: Carlos Faruolo. Line Producer: Dani Martínez. Production Manager: Mariam Seoane. Animation Supervisor: Baltasar Pedrosa. Executive Producers: María Arochena, Ángel de la Cruz, Toni Marín, Tono Folguera, Daniel Martínez. Producers: Manuel Cristóbal, Oriol Ivern.
Graphic novelist Paco Roca will be in attendance at both shows. In Spanish with English subtitles, not rated. Buy tickets online, watch trailer and view the full AFI European Union Film Showcase.
Film
Washington, D.C.
Nov 17, 2012 – Nov 18, 2012
Venue
AFI Silver Theatre and Cultural Center, 8633 Colesville Road, Silver Spring, MD 20910-3916
View on Google Maps
Phone
301-495-6700 ‎
More information