'Cuerpo SMS:' Artistic Residency and performance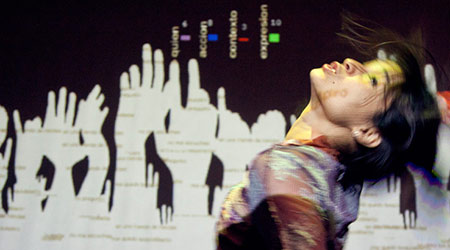 A multidisciplinary project that brings together live performance, audiovisual creation and interactive technology.
Cuerpo SMS is a dance-performance piece inside an interactive space, in which several technological devices such as cameras, tablets, light and movement sensors are controlled by the audience to participate in the visuals and create part of the audiovisual elements of the work. Cuerpo SMS is a great display of what can be done with technology in current performance.
Cuerpo SMS refers to the changes of perception in interpersonal communication mediated by new technologies, and to the spaces that this mediation generates, a recurrent theme in Kònic theatre's work, and that we have explored more recently in their performance Before the Beep. The piece confronts the body with these same communication technologies, and explores how these re-write the body and change our understanding of place and the idea of presence.
The image is distributed in the performing space by the use of small supports for the digital image (tablets, small screens, projections). The set of Cuerpo SMS is a visual and sound universe open to be revisited and activated by the moving body, through its technological membrane.
The microspaces and the audience's participation offer a diversity of viewpoints and a multiplicity of readings proper to contemporary communication. The connection between all spaces is performed by the projected images and music generated in real time from the inputs of the performers and with audience participation.
For the performances of Cuerpo SMS at CPR, Kònic Thtr has invited the performer and dancer Magic DiStefano to collaborate, as well as Detroit artists Christina deRoos and Thomas Bell to enhance the live visuals and live sound elements of the piece. During the month of October, Kònic Thtr will be in artistic residency at Spread Art Detroit, and at Chez Bushwick to develop the piece with these collaborators.
Buy tickets: $12 in advance, $15 (cash only) at the door.
Visual arts
New York
Oct 26, 2012 – Oct 28, 2012
07:30 pm
Venue
Venue
CPR - Center for Performance Research, 361 Manhattan Ave #1, Brooklyn, NY 11211
Phone
718-349-1210
More information
Credits
With the generous support of Spain Culture New York- Consulate General of Spain, and Spain Arts & Culturem ICUB, Ajuntament de Barcelona (SP), Ramon Llull Institute (SP), Departament de Cultura de la Generalitat de Catalunya (SP).