18+12 Illustrators interpret the Constitution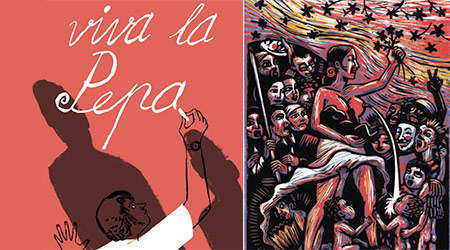 An exhibition in commemoration of the bicentennial of the Spanish Constitution of 1812, a contemporary vision of several designers who interpret La Pepa.
On the occasion of the Bicentenary of the Constitution of Cadiz, Acción Cultural Española (AC/E) presents 1812-2012. Una Mirada Contemporánea (1812-2012. A Contemporary Approach), which covers a range of initiatives in various fields including art, illustration, music, audiovisuals and the Internet.
Two hundred years after La Pepa, as the 1812 Constitution was commonly known, AC/E aims to create a forum for reflection involving different current artistic pursuits, beyond simply a commemorative or historical approach.
Artists:
Juan Acevedo, Ajubel, Pablo Amargo, Anna Anjos, Elisa Arguilé, Pablo Auladell, Arnal Ballester, Paz Boïra, Cintia Bolio, Calatayud, Mariana Chiesa, Devoner, Isidro Ferrer, Gallardo, Ana Juan, Keko, Liniers, Alejandro Magallanes, Victoria Martos, Max, Micharmut, Flavio Morais, Ombú, Laura Pérez Vernetti, powerpaola, Sonia Pulido, Rodrigo Salinas, Carmen Segovia, Fernando Vicente, Noemí Villamuza.
Curated by Jorge Díez. Exhibition opens on Tuesday, October 23 at 8 pm. Free to the public.
Visual arts
Miami
Oct 23, 2012 – Nov 20, 2012
Venue
Phone
305-448-9677
More information
Credits
Organized by Acción Cultural Española (AC/E).