SPAIN arts & culture Cine-Club presents '800 Balas'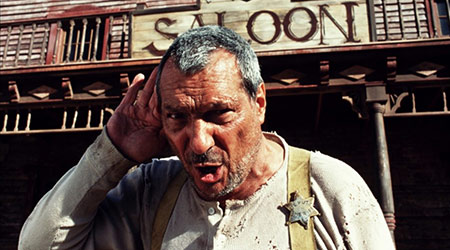 800 Balas will be screened in the photographic set of Once Upon A Time In Almería by Mark Parascandola.
With autumn's arrival also comes the premiere of the second season of SPAIN arts & culture Cine-Club. This presentation will show a modern take on the classic Western, with 800 Balas (800 Bullets), a film directed by Álex de la Iglesia (The Last Circus, The Oxford Murders, The Day of the Beast).
Julián Torralaba is a former movie stuntman from the spaghetti westerns filmed in Almería. He and several of his colleagues, who once made a living in American Westerns shot in Spain, are now reduced to performing stunt shows for tiny audiences on the decaying sets built for those old Westerns.
On the set of the screening, you will find Mark Parascandola's work that has documented this forgotten legacy of moviemaking and offers an atypical version of the ghost town in his photo exhibition Once Upon a Time in Almería.
In addition, for the discussion of the film and history of Almería, Parascandola will be joined by Professor Saverio Giovacchini of the University of Maryland and Reporter Michael O'Sullivan of the Washington Post.
Did you know that European and American filmmakers discovered Almería in the 1960s, attracted by its abundant sunlight, distinctive desert landscape, and cheap labor? Dozens of films were shot here during the 1960s and 70s, including Cleopatra, Lawrence of Arabia, Patton, and all of Sergio Leone's spaghetti westerns starring Clint Eastwood.
Four decades later, remnants of the old movie sets remain in the desert. While a select few have been fixed up for tourists, others remain largely in ruins.
800 Balas (800 Bullets)

Western, Comedy, Crime. Spain, 2002, 124 minutes. Rated R for sexual content/nudity and some violence. Directed by Álex de la Iglesia. Screenplay by Jorgue Guerricaechevarría and Alex de la Iglesia. Cast: Sancho Gracia, Ángel de Andrés López, Carmen Maura, Eusebio Poncela, Luis Castro. Executive Producer: Juanma Pagazaurtundua. Producer: Álex de la Iglesia. Cinematography by Favio Martínez Labiano. Art Direction by José Luis Arrizabalaga. Original Music by Roque Baños.
In Spanish with English subtitles. Doors open at 6:30 pm. Presentation and screening start at 6:45 pm. RSVP required. Get your free ticket.
Film
Washington, D.C.
Oct 18, 2012
06:30 pm
Venue
Embassy of Spain‎, 2375 Pennsylvania Avenue Northwest, Washington D.C., DC 20037
View on Google Maps