Special screening of 'Haika Mutil' & 'Miel de naranjas'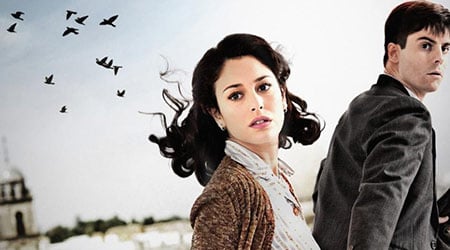 Imanol Uribe's latest film, Miel de Naranjas will be screened together with the documentary Haika Mutil, in which he undertakes a portrait of the Basque singer-songwriter Mikel Laboa.
International award-winning filmmaker Imanol Uribe gained fame early in his career for his controversial sociopolitical portraits of the Basque people in the post-Franco era. Though born in El Salvador, Uribe is of Basque heritage.
Miel de naranjas (Orange Honey)

2011, 102 minutes. It tells a powerful story about the clandestine struggle during the Franco dictatorship. This film has just won the jury's Special Prize at the Montréal World Film Festival 2012.
Haika Mutil (Stand up boy)

1997, 30 minutes. Hosted by Bernardo Atxaga, this documentary takes us through the artistic production of Basque singer and songwriter Mikel Laboa (1934–2008), the patriarch of Basque music. Nearly all of his songs are sung in Basque. Script by Bernardo Atxaga.
This event is part of the Basque Cultural Exchange New York – Fall 2012, a program of cultural events organized by the Etxepare Basque Institute.
The screening will be attended by Imanol Uribe himself, who will participate in a discussion after the movies together with the CUNY professor Paul Julian Smith.
Film
New York
Oct 5, 2012
06:00 pm
Venue
Phone
212-308-77-20
Credits
Organized and funded by Etxepare Basque Institute, with the collaboration of Basque Film Archive, the Basque Government Delegation in New York, CUNY, NYU, the Instituto Cervantes New York, Anthology Film Archives, Spain Culture New York, ICAA, Euskadi 2012, and the Basque Government.