Film series: 'The Spanish Civil War in the Basque Country'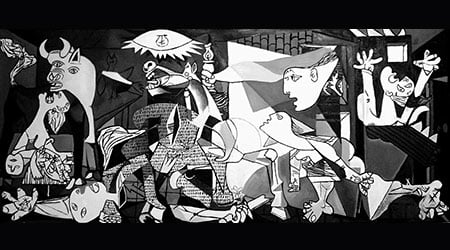 To commemorate the 75th anniversary of the bombings of Durango and Gernika, the Etxepare Basque Institute will present a selection of films that reflect the traces the war has left on Basque cinema.
During the war, the propaganda films promoted by the president of the Basque government, Lendakari Aguirre, which called for international solidarity with the Basques, had their counterpoint in the aggressive fascist propaganda documentaries of the Franco regime.
Following the war, the victorious faction used cinema to impose its monopolistic reading of history, while the international memory of tragedies like that of Gernika is now, thanks in large part to cinema, a symbol of the struggle against the barbarism of war.
Finally, the death of Franco led to a new freedom to address other aspects of the Civil War in the Basque Country, which had previously been silenced. As Susan Sontag pointed out, there are horrors without a name because they lack images. In the last three decades, the (mainly Basque) filmmakers presented in this series have used cinema to protect us against memory.
The Tree of Guernika

By Fernando Arrabal, 1975, 100 min, 35mm-to-digital video
On October 6 at 5:15 pm and October 9 at 7:30 pm.
La Buena Nueva

By Helena Taberna, 2008, 104 min, 35mm.
On October 6 at 8:00 pm. Presentation: Joxean Fernandez, Director of the Basque Film Archive and Iker Ganuza, Producer.
Lauaxeta

By Jose Antonio Zorrilla, 1987, 90 min, 35mm.
On October 7 at 6:00 pm.
Children of Russia

By Jaime Camino, 2001, 93 min, 35mm.
On October 7 at 8:00 pm and October 10 at 9:00 pm.
Vacas

By Julio Medem, 1992, 96 min, 35mm.
On October 8 at 7:30 pm and Octobre 10 at 7:00 pm.
This film series is part of Basque Cultural Exchange New York – Fall 2012, a program of cultural events organized by the Etxepare Basque Institute. The program will address four main subjects: Basque cinema, the 75th anniversary of the bombing of Gernika, the development of the icon of Gernika through to current Basque icons, and a journey through music in Euskara (the Basque language).
Film
New York
Oct 6, 2012 – Oct 10, 2012
Venue
Venue
Anthology Film Archives, 32 Second Avenue, New York, NY 10003
Phone
212-505-5181
More information
Credits
Organized and funded by Etxepare Basque Institute, with the collaboration of Filmoteca Vasca, the Ministry of Culture of Spain-ICAA, and Spain Culture New York-Consulate General of Spain, member organization of Spain arts & Culture.