'The Bombing of Gernika. The Exhibit.'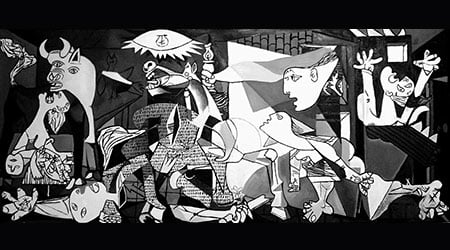 On the 75th Anniversary of Gernika Bombing (1937-2012), this exhibit aims to inform visitors about the tragic events that made the city of Gernika famous in 1937.
The technical aspects of the bombing of Gernika still make up one of the most passionate topics of modern history. The German Condor Legion and the Italian air force, acting under the orders of Franco's rebel army, perpetrated the destruction of Gernika that has gone down in history as the first experiment in total war.
This exhibition is part of the Basque Cultural Exchange New York – Fall 2012, a program of cultural events organized by the Etxepare Basque Institute.
The program will address four main subjects: Basque cinema, the 75th anniversary of the bombing of Gernika, the development of the icon of Gernika through to current Basque icons, and a journey through music in Euskara (the Basque language).
Opening exhibition: October 3rd at 6:30 pm. Special performance by soprano Amaya Arberas and pianist David Shenton. Reception to follow featuring Txakoli wine.
Visual arts
New York
Oct 1, 2012 – Dec 17, 2012
Venue
King Juan Carlos I of Spain Center, 53 Washington Square S, New York, NY 10012
View on Google Maps
More information
Credits
Organized by Etxepare Basque Institute in collaboration with the King Juan Carlos I of Spain Center and the Gernika Peace Museum Foundation.