Manolo Valdés - Monumental Sculpture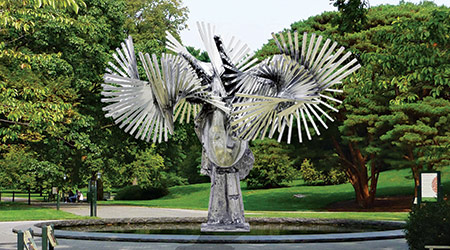 Drawing inspiration from the Garden's natural landscape, acclaimed Spanish artist Manolo Valdés brings seven towering sculptures to five distinctive sites.
Manolo Valdés has created new monumental sculptures that respond directly to the Garden's celebrated plant collections. Examples include Fiore, a 17-foot-high bronze and steel work inspired by oak and maple trees; Butterflies, a 50-foot-wide aluminum piece; and Ivy, a 15-foot-tall aluminum structure reminiscent of palm leaves.
The seven monumental, sculptural heads specifically created by the artist for this exhibition not only reference images from the past, but also draw inspiration from nature as can be seen in their headdresses, which include ferns, oak and maple leaves, windblown palms, and butterflies. The exhibition's tour de force is the expansive 50-foot, bronze and cor-ten steel lattice work headdress of Alhambra, which creates a maze for the visitor to walk through and also pays tribute to Spain's historic Alhambra in Granada with its stunning Moorish gardens and architecture dating to the 10th century.
Manolo Valdés (b. 1942) is one of Spain's most important and respected artists. Working in a variety of media, primarily painting and sculpture, he is considered to be one of the most original and versatile artists working today. His work is found in more than 40 public collections worldwide. He is represented by Marlborough art gallery, while living and working in New York and Madrid.
Opening hours: Tuesday-Sunday, from 10 am to 6 pm. Buy tickets. All-Garden Pass tickets start at $20 for Adults and $8 for Kids under 12. See prices by date.
Visual arts
New York
Sep 22, 2012 – May 26, 2013
Venue
Phone
718-817-8700
More information
Credits
Sculptures sponsored by Marlborough.