'Picasso Black and White'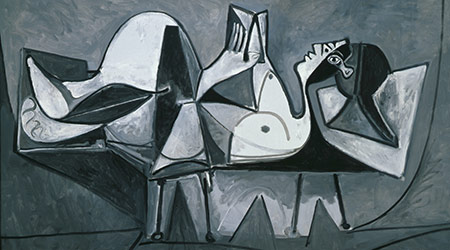 Surveying the Spanish master's oeuvre from 1904 to 1971, Picasso Black and White examines the artist's lifelong exploration of a black-and-white palette through 118 paintings, sculptures, and works on paper.
Picasso's deceptively simple use of isolated black, white, and gray hues belies the extraordinary complexity and power of these expressive works, which purge color in order to highlight their formal structure.
The exhibition traces the artist's unique vision thematically throughout his whole body of work, including early monochromatic blue and rose paintings, gray-toned Cubist canvases, elegant and austere neoclassical portraits and nudes, Surrealist-inspired figures, forceful and somber scenes depicting the atrocities of war, allegorical still lives, vivid interpretations of art-historical masterpieces, and the electric, highly sexualized canvases of Picasso's last years.
Exhibition opens Friday, October 5, from 10 am to 5:45 pm. View hours and ticketing information.
Visual arts
New York
Oct 5, 2012 – Jan 23, 2013
Venue
Phone
212-423-3500
More information
Credits
Organized by the Solomon R. Guggenheim Museum.
Image: Pablo Picasso, Reclining Woman Reading (Femme couchée lisant), 1960, Modern Art museum of Fort Worth, Museum Purchase, The Benjamin J. Tillar Memorial Trust, © 2011 Estate of Pablo Picasso/Artists Rights Society (ARS), New York.