Special presentation of 'Aquí y allá' ('Here and there')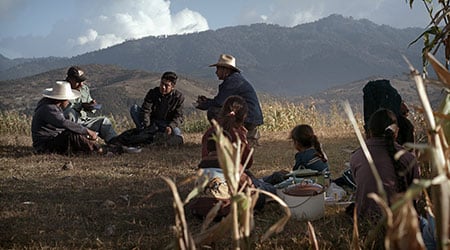 Director Antonio Méndez Esparza will present his latest film at the AFI Latin American Film Festival.
A quietly devastating exploration of the cruel paradox that, in order to feed their loved ones, emigrants have to leave them behind.

—Variety
A most remarkable debut; rarely, if ever, has a film about US/Mexican border experience felt so fresh or authentic.

—The Film Society of Lincoln Center
After years of working odd jobs in the U.S., Pedro returns home to his mountain village in Guerrero, Mexico. But upon his return, he finds himself a stranger in his own home. His daughters are rebellious and distant, while his wife doesn't quite welcome him with open arms. He finds brief moments of joy playing with his band, the Copa Kings, but they don't last.
This lyrical debut feature finds breathtaking moments of reality in the life of a migrant worker who struggles on both sides of the border. Grand Prix, Critics Week, 2012 Cannes Film Festival; Official Selection, 2012 Karlovy Vary, San Sebastian, New York Film Festivals.
Aquí y allá (Here and there)

Dir./Scr./Prod. Antonio Méndez Esparza; Prod. Ori Dov Gratch, Pedro Hernández Santos, Tim Hobbs, Diana Wade. Spain/ US/Mexico, 2012, color, 110 min. In Spanish with English subtitles. Digital presentation. Not rated.
AFI Latin American Film Festival showcases the best filmmaking from Latin America and, with the inclusion of films from Spain and Portugal, celebrates Ibero-American cultural connections. This year's selection of 50 films makes it the biggest festival yet, and includes international festival favorites, award-winners, local box-office hits and debut works by promising new talents.
Buy tickets for Here and there. Special presentation by Director Antonio Méndez Esparza. Reception to follow.
Film
Washington, D.C.
Oct 4, 2012
07:10 pm
Venue
AFI Silver Theatre and Cultural Center, 8633 Colesville Rd, Silver Spring, MD
View on Google Maps
Phone
301-495-6700 ‎
More information