'Recent Spanish Cinema' in Los Angeles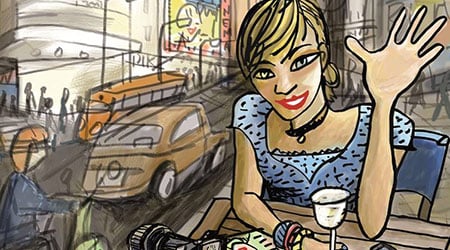 Join us for our 18th annual showcase of the wildest, sexiest new films from Spain —on the big screen at the Egyptian Theatre in Hollywood.
Since 1994, the Recent Spanish Cinema Series has been presenting the most outstanding current Spanish films. The Series is a Eighth Art showcase of Spain's top cinema personalities, who have contributed significantly to putting "Made in Spain" productions in the vanguard of international filmmaking.
Included in this year's lineup are Alberto Rodriguez's crime drama Unit 7 (Grupo 7) and Fernando Gonzalez Molina's coming-of-age drama and romance I Want You (Tengo Ganas de Ti) —the sequel to Three Steps Above Heaven, a selection from last year's Recent Spanish Cinema, both starring Spanish star Mario Casas.
Also included are Ignacio Ferreras' stunning animated feature, Wrinkles (Arrugas), based on Paco Roca's comic of the same title; Patricia Ferreira's The Wild Children (Els Nens Salvatges), an elegant triptych of coming-of-age tales and winner of four awards at the Malaga Spanish Film Festival; and 2011's much-lauded, multiple-Goya winner The Sleeping Voice (La Voz Dormida), by Benito Zambrano and starring Maria Leon and Inma Cuesta.
The cover image for the 18th Recent Spanish Cinema series in Los Angeles is a painting by renowned artistic designer Javier Mariscal, who faithfully displays the optimism and vibrant colors characteristic of his work to create a scene for the film series in which a young and pretty Spanish actress greets the U.S. from a sidewalk café on Madrid's Gran Vía, an emblematic avenue in the heart of the city, where many popular cinema theaters are clustered and where traditional and modern coexist.
Check the Recent Spanish Cinema and the American Cinematheque websites in October for more additions to the lineup. Tickets are on sale at the box office or online. Watch Promo.
Film
Los Angeles
Oct 11, 2012 – Oct 14, 2012
Venue
Venue
Egyptian Theatre, 6712 Hollywood Boulevard, Los Angeles, CA 90028
Phone
323-461-2020
More information
Credits
Presented by Instituto de la Cinematografía y de las Artes Audiovisuales (ICAA) of the Spanish Ministry of Education, Culture and Sport, the American Cinematheque and EGEDA.