2012 DC Shorts Film Festival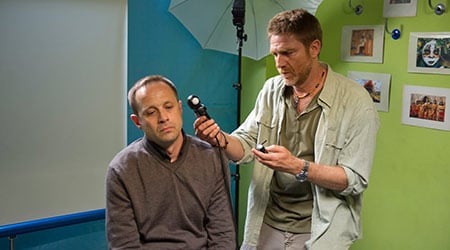 Two Spanish productions are featured in the largest short film event on the East Coast.
In its 9th year, the DC Shorts Film Festival is returning to the D.C.-area this September with eleven days of short films from around the world. The festival will be spread between three different venues in Washington, D.C. and at the new Angelika Film Center in Dunn Loring, VA. DC Shorts continues to be the largest film festival on the East Coast.
This year, the festival will be showing 140 films from 27 countries. The films run the gamut in genre, style and subject, but are unified by their abbreviated run times: 1-20 minutes or less. These mini-flicks will be grouped together into 17 unique 90-minute showcases shown throughout the festival. The showcases range in content with something for everyone, including dramas, comedies, animation, sci-fi, documentaries and experimental films.
The following Spanish Films are part of the 9th DC Shorts Film Festival:
La Boda (The Wedding)

12 minutes | Dramedy | Spain | U.S. Premiere.
A Cuban maid in Madrid struggles against all odds to attend her daughter's wedding. Watch the trailer.
Photo

7 minutes | Horror | Spain | D.C. Premiere.
He only needed one photo. A good one. Watch the trailer.
Check out the films' schedules, venues and ticketing information or view the festival's catalog
Film
Washington, D.C.
Sep 6, 2012 – Sep 16, 2012
Venue
Various venues in Washington, D.C.
More information