'Two Hemispheres'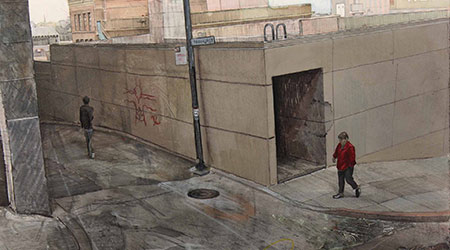 An exhibition of young contemporary American and Spanish artists at The Gabarron in New York.
With just over 300 works of art entered in the contest, this exhibition will be comprised of works by 26 up-and-coming artists from the New York area, as well as seven artists from Spain. Their works were selected based upon the decision of a jury, which included the following distinguished persons:
Cris Gabarrón, President of The Gabarron Foundation
Jason Kaufman, notable arts journalist
Heidi Lee, director of Waterhouse and Dodd Contemporary NY
Cay Sophie Rabinowitz, contemporary art writer, curator, and producer
Elga Wimmer, curator and president of Elga Wimmer PCC Gallery
The purpose of this special exhibition is for American artists from New York to build a cultural dialogue with their fellow Spanish artists, recognizing the strong link among the United States, Latin America, and Spain.
The artwork will be on view until early November and will then be sent to the Foundation's other galleries in Spain for additional exhibitions, where they will become part of The Gabarron Foundation Contemporary Art Collection.
The Opening Reception at the Carriage House will be held on Friday, September 14th, from 6 to 8 pm. All are welcome to attend so long as they RSVP to or call 212-573-6968 prior to the date.
Check out the SPAINRED profile of The Gabarron Foundation Carriage House Center for the Arts.
Visual arts
New York
Sep 14, 2012 – Nov 2, 2012
Venue
Phone
212-573-6968
More information