'Foregrounding the Palisades'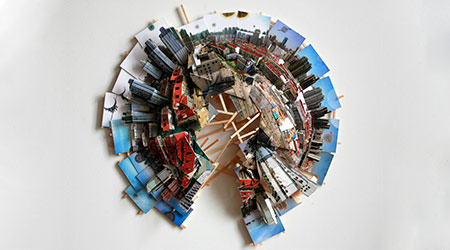 A 3D photographic installation and construction at Wave Hill, a public garden and cultural center.
Isidro Blasco's Flow System combines architecture, photography and installation.
By fragmenting specific views of the Palisades through multiple vantage points, based on hundreds of photographs he has taken from both sides of the Hudson, his installation fills the North Gallery with an elliptical succession of multiple angles, creating a wave-like construction in 3D that surrounds the gallery space with a myriad of miniature hills and trees, in a continuous flow of changing colors and seasons.
The view across the Hudson River to the majestic Palisades is integral to Wave Hill's landscape. Foregrounding the Palisades brings the vista into Glyndor Gallery, transforming its Georgian Revival rooms.
Conceived as an opportunity to showcase sculpture, the artists Isidro Blasco, Blane De St. Croix and Paula Winokur were selected based on their interest in geology, ecology, preservation and history, and on the methods they have developed to deal with space and subject.
Gallery hours: Tuesday–Sunday, 9 am to 5:30 pm. Opening reception: Sunday, September 23, from 2 pm to 4 pm. View Isidro Blasco's SPAINRED profile.
Visual arts
New York
Sep 1, 2012 – Dec 1, 2012
Venue
Phone
718-549-3200
More information
Credits