Screening: 'Azul oscuro casi negro'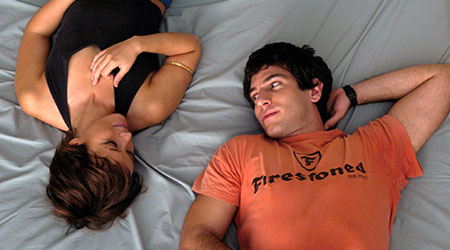 ZonaZine presents: Dark blue almost black (Azul oscuro casi negro).
Jorge is a young Spanish man whose plans for the future are put on hold when his father has a stroke. Seven years later, Jorge has finally managed to complete a business degree but finds that no one will hire him because he only has experience as a janitor. However, everything changes when Jorge's brother Antonio gets out of prison and asks him to help impregnate his jailbird girlfriend, Paula in the hope of getting her moved to the easy life of the maternity wing. Jorge reluctantly agrees, even though it might get in the way of his long term on-off relationship with Natalia.
Azul Oscuro Casi Negro

Spain, 2006, 105 minutes. Directed by Daniel Sánchez Arévalo. Cast: Quim Gutiérrez, Marta Etura, Raúl Arévalo, Antonio de la Torre. Producer: José Antonio Félez. Script: Daniel Sánchez Arévalo. Cinematography: Juan Carlos Gómez. Music: Pascal Gaigne.
Best Directorial Debut at the Stockholm International Film Festival. Goya Awards: Best New Director, Best New Actor and Best Supporting Actor. Best Screenplay and Special Jury Award at the Málaga Film Festival in Spain. Official Selection at the Toronto International Film Festival and the Venice International Film Festival.
ZonaZine: New Spanish Contemporary cinema — Young generation of creative directors 2001-2009 by Instituto Cervantes in partnership with the Malaga Cinema Festival will showcase the most famous and revolutionary new young generation of Spanish directors in the past 10 years. From 2001 to 2009, the Spanish cinema has expanded rapidly and this series captures the talent of Spanish directors, screenwriters and actors. From September 20th to October 25th, every Thursday one Spanish film will be screened at the Bank of America Theatre at the National Hispanic Cultural Center.
Directed by Daniel Sánchez Arévalo. Free and open to the public. In Spanish with English subtitles.
Film
Albuquerque
Sep 20, 2012
07:00 pm
Venue
National Hispanic Cultural Center, 1701 4th Street Southwest, Albuquerque, NM 87102
View on Google Maps
Phone
505-724-477
More information
Instituto Cervantes Albuquerque
Credits
In collaboration with the Centro Nacional de Cultura Hispana (Albuquerque) and the National Hispanic Cultural Center (Albuquerque).