'Chico & Rita' in exclusive outdoor screening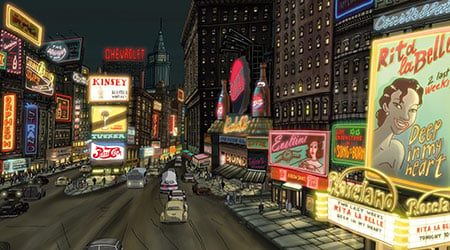 Oscar-nominee for Best Animated Film Chico & Rita will be screened in the garden of the Former Residence of the Ambassador of Spain.
Bring a blanket and enjoy a night devoted to the animated love story of Chico & Rita by Oscar-winning director Fernando Trueba (Belle Epoque) and Spain's most famous and successful designer, Javier Mariscal.
Doors will open early so guest can enjoy food and drinks, a surprise raffle and listen to the film's soundtrack, created by legendary Cuban pianist, bandleader and composer Bebo Valdés. The soundtrack captures a definitive moment in the evolution of jazz music, including legends such as Thelonious Monk, Cole Porter and Dizzy Gillespie.
In Chico & Rita, a gifted songwriter and beautiful singer chase their dreams and each other from Havana to New York and Las Vegas in the late 1940s and early '50s. Celebrate the passion for Latin music and culture with this epic story of love and heartbreak.
Exuberant! Breathtakingly beautiful! A visually hypnotic, musically electric film!"

—The Hollywood Reporter
Magnificent! Delicious! Ravishing!

—The Telegraph
A sexy, soulful animation for grown-ups! All buzz, color, and sublime jazz, Chico & Rita is an instant classic!

—Total Film
Nominated for Best Animated Feature Film at the 2012 Academy Awards; winner of a 2011 Goya award for Best Animated Feature; winner of the 2011 European Film Award for Best Animated Feature.
In Spanish with English subtitles. Free and open to the public. RSVP required. Sangría, Mojitos and Spanish appetizers for purchase. Cashbar. Doors open at 8:00 pm. Screening at 9:00 pm.
Film
Washington, D.C.
Jul 12, 2012
08:00 pm
Venue
Venue
Former Residence of the Ambassador of Spain, 2801 16th St NW, Washington, D.C. 20009
More information
Credits
With the collaboration of Luma Films. Motion Picture Soundtrack available on Calle 54 | RED | Sony Music Latin.