Amaral live in Los Angeles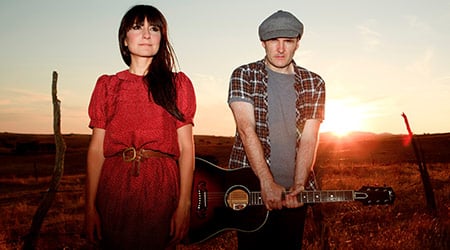 This summer Amaral will be crossing the pond to perform at selected locations during a West Coast tour in the United States, promoting the U.S. release of their sixth album Hacia Lo Salvaje.
Hailing from Zaragoza, Spain, Amaral are an electric guitar rock with an indie-pop sensibility in the form of a Spanish boy-girl duo. It is one of the most popular current pop-rock acts in their country and throughout Mexico and South America, and they are starting to successfully crossover to the curious Anglo marker.
Comprised of singer-songwriter Eva Amaral and guitarist Juan Aguirre, Amaral has sold around 4 million copies of their discography, counting their six studio albums and two live DVDs.
After severing ties with EMI, Amaral released their latest album in 2011, Hacia Lo Salvaje (Toward the wildness) on their own independent label, Antártida, selling over 80 thousand copies within the first four month.
The couple started in the local bar scene of their town, playing covers of English-language rock classics by the likes of Patti Smith, Bob Dylan and The Waterboys. They count Television and The Byrds among their foundational influences. Since their official debut in 1998, Amaral has become one of the strongest contenders in their country's pop-rock arena, thanks to their original compositions where delicate poetry blends with hard-hitting classic rock, folk and psychedelia, earning multiple awards on their way.
Some of the most popular songs in their repertoire, like Sin ti no soy nada and Cómo hablar, are widely regarded as all-time classics in their homeland. And their third album, Estrella de Mar (2002) was listed in the 24th position on the Best 50 Albums of Spanish Rock by Rolling Stone Magazine (Spain's edition).
Buy tickets for this show and watch Amaral's latest single, Cuando Suba La Marea.
Music
Los Angeles
Jun 20, 2012
07:00 pm
Venue
Phone
310-278-9457
More information
Credits
In collaboration with ICEX (Instituto Español de Comercio Exterior).