Cine-Club: 'Los Otros' ('The Others')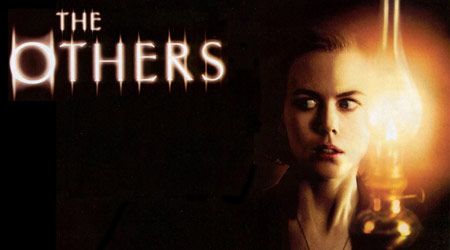 The Others is a psychological horror film by the Spanish director Alejandro Amenábar starring Nicole Kidman.
Amenábar reached his first commercial success in 1996 with Thesis, a film which undoubtedly showed that a major new director had arrived on the scene. Later, Abre Los Ojos and The Others confirmed his arrival in the cinematographic world.
In The Others, his first English-language movie, he shows an impressive mastery of the ghost-story form. He sends his camera down shadowy corridors and into cavernous rooms to create a mood of elegant dread.
Sinopsis:
A woman named Grace retires with her two children to a mansion on Jersey, towards the end of the Second World War, where she's waiting for her husband to come back from battle. The children have a disease which means they cannot be touched by direct sunlight without being hurt in some way. They will live alone there with oppressive, strange and almost religious rules, until she needs to hire a group of servants for them. Their arrival will accidentally begin to break the rules with unexpected consequences.
The Others (Los Otros)

Drama/Horror/Period, Spain, 2001, 108 Minutes. Director: Alejandro Amenábar. Screenplay: Alejandro Amenábar. Cast: Nicole Kidman, Fionnula Flanagan, Christopher Eccleston, Elaine Cassidy, Eric Sykes, Alakina Mann, James Bentley and Renée Asherson. Executive Producers: Paula Wagner, Bob Weinstein, Harvey Weinsteon, Rick Schwartz. Producers: Fernando Bovaira, Jose Luis Cuerda, Sunmin Park. Director of Photography: Javier Aguirresarob. Music: Alejandro Amenábar. Production Designer: Benjamín Fernández.
BAFTA Awards: Best Actress - (Nicole Kidman). Goya Awards: Best Cinematography, Best Director, Best Editing, Best Film, Best Production Design, Best Production Supervision, Best Screenplay - Original , Best Sound. Kansas City Film Critics: Best Actress. London Film Critics: Best Actress of the Year (Nicole Kidman). Online Film Critics: Best Actress, Best Screenplay – Original. Golden Globe Awards: Best Actress Drama. Saturn Awards: Best Actress, Best Horror Film.
In English with Spanish subtitles. Free Admission. Limited seats. Get your free tickets for the screening. Rated PG-13 (Parents strongly cautioned; it has some intensely frightening scenes). Doors open at 6:30 pm; presentation and screening at 6:45 pm.
Film
Washington, D.C.
Jun 21, 2012
06:30 pm
Venue
Embassy of Spain‎, 2375 Pennsylvania Avenue Northwest, Washington D.C., DC 20037
View on Google Maps
More information