Cine-Club: 'Tierra' ('Earth')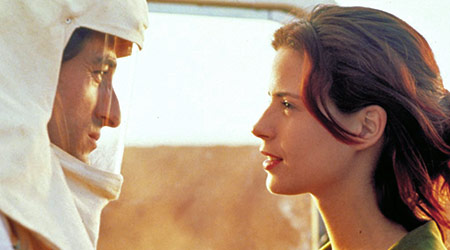 A haunting, visually mesmerizing journey into the strange world of human behavior by the author of Sex and Lucía and Lovers of the Arctic Circle.
With Tierra (Earth), his third feature film, Julio Médem returned to the magical realism of Cows, but the storyline was even more ambiguous than in his previous. In Tierra, a cosmic fable of metaphysics and mundanity is performed in an unearthly landscape, as internal as it is external, a landscape which is, in Médem's own words "warm, intimate, and subjectivizable."
Sinopsis:
Angel, an exterminator recently released from a mental hospital, comes to rid a small Spanish town of tiny grubs in the soil. The local wine-making industry has found these pests responsible for giving their product an "earthy" taste that has divided local opinion.
While in town, Angel becomes involved with two beautiful and very different women, and impacts their lives on a grand scale. Can either of these women accept the fact that Angel travels with a "ghost" of himself, or that he routinely speaks with the deseased townspeople?
Tierra (Earth)

Comedy/Drama/Fantasy, Spain, 1996, 122 Minutes. Director: Julio Médem. Screenplay: Julio Médem. Cast: Carmelo Gómez, Emma Suárez, Silke, Karra Ejalde. Producers: Fernando de Garcillán, Manuel Lombardero. Director of Photography: Javier Aguirresarobe. Music: Alberto Iglesias.
Fotogramas de Plata: Best Movie Actor (Karmelo Gómez), Best Movie Actress (Emma Suárez). Goya Awards: Best Original Score, Best Special Effects. Ondas Awards: Best Actress. São Paulo International Film Festival: Crtics Award – Honorable Mention (Julio Médem). Turia Awards: Best Actress (Silke), Best Spanish Film. Valdivia International Film Festival: Audience Award: Julio Médem.
In Spanish with English subtitles. Free Admission. Limited seats. Get your free tickets for the screening. Rated PG-7. Doors open at 6:30 pm; presentation and screening at 6:45 pm.
Film
Washington, D.C.
May 31, 2012
06:30 pm
Venue
Embassy of Spain‎, 2375 Pennsylvania Avenue Northwest, Washington D.C., DC 20037
View on Google Maps
More information