'Muntadas: Eleven'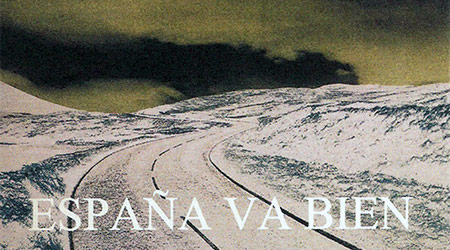 Eleven works created by Antoni Muntadas on display at the Kent Fine Art Gallery.
Muntadas: Eleven presents eleven works created in varying periods and under varying circumstances. This exhibition marks the first time these works have been seen in New York, beginning with the earliest, Diálogo, produced in 1980 in Madrid; to the series Sentences, begun in 1999; to Look/See/Perceive of 2009; to recent work like The Ordeal of Picasso's Heirs and Carteras sin ministro, both from 2012.
Although Muntadas is well known for constructing critiques of what he calls the "media landscape" in large and complex projects, each of these eleven works embody a particularly direct and personal engagement with issues of perception, interpretation, and representation.
Antoni Muntadas was an early pioneer of video and installation in the mid-seventies, and he has continued to work with photography, video, installation, audio recording, and urban intervention. Iterations of his iconic projects —such as Between the Frames: The Forum (1983-93), The Board Room (1985), and the ongoing series On Translation (1995- ) and The Construction of Fear (2008- )— have been widely exhibited at institutions and galleries in North and South America, Europe, and the Middle East.
Muntadas participated in the 1977 and 1997 editions of Documenta, the 1991 Whitney Biennial, the 1983 São Paulo Biennial, the 2000 Havana Biennial, the 2002 Taipei Biennial, the 2004 Kwangju Biennial, the 2011 Istanbul Biennial, and the 2012 Paris Triennale curated by Okwui Enwezor. In 2005 he represented Spain at the Venice Biennale, where he realized a comprehensive project on the architectural evolution of the Biennale over its history.
Recent surveys have included exhibitions at the Museu d'Art Contemporani, Barcelona; Laboratorio Arte Alameda, Mexico City; Neuen Museum Weserburg, Bremen; Espacio Fundación Telefónica, Buenos Aires; Württembergischer Kunstverein, Stuttgart; and the Estaçao Pinacoteca, São Paulo. Just closing is Entre/Between, a major career-spanning exhibition at the Museo Nacional Centro de Arte Reina Sofia in Madrid, curated by Daina Augaitis.
Muntadas has received numerous honors, including awards from the Solomon R. Guggenheim Foundation, the Rockefeller Foundation, the National Endowment for the Arts, the New York State Council on the Arts, Arts Electronica in Linz, Laser d'Or in Locarno, and the Premi Nacional d'Arts Plàstiques de la Generalitat de Catalunya. In 2005 the Spanish Ministry of Culture awarded him the Premio Nacional de Artes Plásticas.
View online publication (PDF) documenting all of the works included in Eleven. Gallery Hours: Tuesday-Saturday, from 10 am to 6 pm.
Visual arts
New York
Apr 28, 2012 – Jun 15, 2012
Venue
Phone
212-365-9500
More information