Chef José Andrés creates Garden Café Catalonia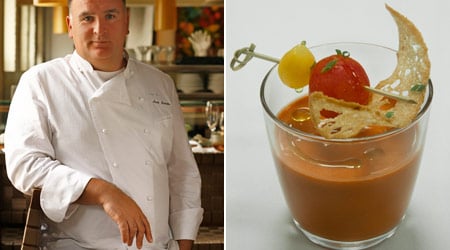 Inspired by Joan Miró: The Ladder of Escape, award-winning Washington-based Chef José Andrés is transforming the menu in the Garden Café with signature Catalan dishes.
The sense of Catalan identity evident throughout the Joan Miró: The Ladder of Escape exhibition is also reflected in the Garden Café Catalonia.
José Andrés' pride in his native Spain and in the distinctive culinary traditions of the northeast province of Catalonia is highlighted in the Garden Café menu. He incorporates traditional Catalan flavors, combining sweet fruits and nuts with savory meats and vegetables, and features classic dishes such as escalivada catalana, the roasted vegetable dish which takes its name from the Catalan verb escalivar, to cook slowly near embers of a fire.
Chef Andrés' buffet ($20.25) incorporates a variety of traditional Catalan fare, including rustic bread, empedrat de mongetes (white bean salad with vegetables, black olives, and tomato), sopa freda de cireres de Santa Coloma de Cervelló (cold cherry and tomato soup), samfaina (Catalan vegetable stew), xatonada (salad of frisée, preserved tuna, and romesco sauce), formatges amb anous i codony (Catalan cheese with Marcona almonds and quince marmalade), escalivada catalana (salad of roasted red pepper, eggplant, and onion), pollastre a la catalana (Catalan chicken stew with dried fruits and nuts), fricandó de galtes de vedella amb bolets (Catalan stew of beef cheeks and mushrooms), and for dessert crema catalana (caramelized Catalan custard). Recipe cards for selected dishes are offered to guests free of charge.
White, red, and sparkling Catalan and Spanish wines have been carefully selected to complement the menu, along with beer (Estrella Damm, Barcelona, Spain) and specialty drinks, including red wine sangria, calimocho (ludovicus, cola, bitters), and clara (Estrella Damm, house-made lemonade, orange bitters).
The Garden Café Catalonia menu is presented in partnership with Restaurant Associates and Executive Chef David Rogers at the National Gallery of Art.
Open Monday through Saturday, from 11:30 am to 3:00 pm, and Sunday, noon to 4:00 pm.
A preconcert menu of light fare, desserts, and beverages is offered from 4:00 to 6:00 p.m. on Sundays to accommodate visitors who attend the free Sunday evening concerts in the West Garden Court To make reservations for groups of eight or more, please contact the café manager at (202) 712-7454.
Culinary arts
Washington, D.C.
May 1, 2012 – Sep 15, 2012
Venue
National Gallery of Art, West Building, Constitution Avenue Northwest and 6th Street, Washington, DC 20565
View on Google Maps
More information
Credits
In-kind promotional support has been provided by Chef José Andrés of Jaleo and ThinkFoodGroup.