Cine-Club Opening: 'AzulOscuroCasiNegro'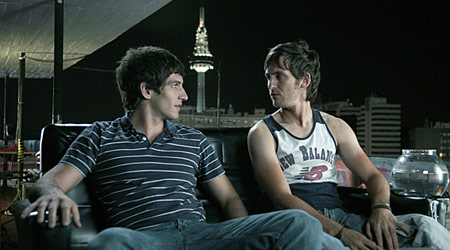 Screening of DarkBlueAlmostBlack with director Daniel Sánchez Arévalo in attendance.
A new film series showcasing the best of contemporary Spanish cinema starts in Washington D.C! Join us for the inaugural screening of SPAIN arts & culture new Cine-Club with filmmaker Daniel Sánchez Arévalo and his directorial debut DarkBlueAlmostBlack (AzulOscuroCasiNegro).
When his father suffers a debilitating stroke, Jorge is forced to put his life and career on hold. He takes over his father's janitorial position, cares for his father and studies at night. His life is further complicated by romantic entanglements with women. Meanwhile, Jorge's best friend Israel begins to question his sexuality and his family's integrity when he discovers that his father frequents a male masseur.
Director Daniel Sánchez Arévalo's tender and witty debut examines the feeling of entrapment that arises when needs and desires are subjugated to family obligations. It is also an astute exploration of generational politics in Spain, where the young are generally expected to carry on traditions and values.
DarkBlueAlmostBlack (AzulOscuroCasiNegro)

Spain, 2006, 105 minutes. Directed by Daniel Sánchez Arévalo. Cast: Quim Gutiérrez, Marta Etura, Raúl Arévalo, Antonio de la Torre. Producer: José Antonio Félez. Script: Daniel Sánchez Arévalo. Cinematography: Juan Carlos Gómez. Music: Pascal Gaigne.
Best Directorial Debut at the Stockholm International Film Festival. Goya Awards: Best New Director, Best New Actor and Best Supporting Actor. Best Screenplay and Special Jury Award at the Málaga Film Festival in Spain. Official Selection at the Toronto International Film Festival and the Venice International Film Festival.
In Spanish with English Subtitles. Free Admission. Limited seats. Get your free tickets for the screening.
Film
Washington, D.C.
Apr 19, 2012
06:30 pm
Venue
Embassy of Spain‎, 2375 Pennsylvania Avenue Northwest, Washington D.C., DC 20037
View on Google Maps
More information