'Happy New Year, Grandma!' at FilmFest DC 2012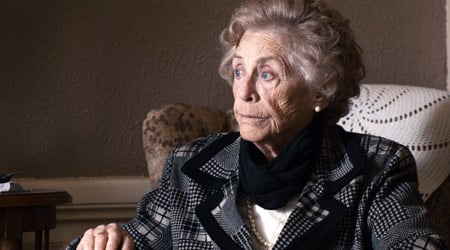 The 26th Annual Washington, D.C. International Film Festival… for people who love movies!
Basque comedy Urte berri on amona! (Happy New Year, Grandma!) by filmmaker Telmo Esnal (Spain, 2011, 107 minutes, digital, Color) will be featured this year in the section The Lighter Side – Politics Isn't The Only Funny Thing in Washington.
In this hilarious black comedy, Maritxu (Kontxu Odriozola) a harried and highly strung Basque woman, is becoming exhausted by the demands of her elderly mother Mari. Maritxu won't hear of putting her in a nursing home, so her husband takes his wife on a vacation and conspires to have his daughter Miren (Nagore Aramburu) and son-in-law Kintxo (Pedro Otaegi) take Mari to the nursing home.
The plan backfires when Mari runs away. Kintxo tracks her down at a luxury hotel and has to take her into his home. The old lady is a terror, manipulative and vindictive, so he starts to consider a drastic solution.
With a superb ensemble cast, Esnal creates a world populated with beautifully rendered, realistic characters increasingly driven to despair by the conniving grandma played with quiet —and not so quiet— ferocity by Monstserrat Carulla.
Screenings on Sunday, April 15th at 7:00 pm (tickets: $11.00), and Monday, April 16th at 8:30 pm (tickets: $11.00). In Basque with English subtitles.
Film
Washington, D.C.
Apr 15, 2012 – Apr 16, 2012
Venue
Venue
Goethe-Institut Washington, 812 7th Street Northwest, Washington, D.C. 20001
More information