Álava's 'Romanov Series' at Fiction/Non Fiction Collection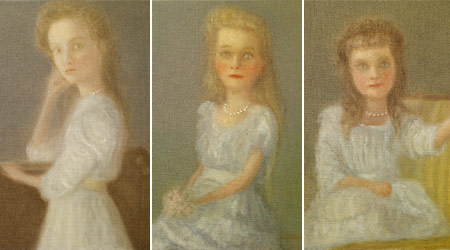 Spanish artist Chechu Álava presents her Romanov Series in the collective collection Fiction/Non fiction at Adam Baumgold Gallery.
Chechu Álava was born in Piedras Blancas, Asturias in 1973. She received her Bachelor of Fine Arts from the School of Salamanca in 1995 and won the Erasmus scholarship to study at the Rietveld Academy in Amsterdam. After her stay in London in 1997 she began an artistic journal (of sorts) —made up of drawings, collages and photographs. She currently resides in Paris.
Her personal style is focused on the eternal representation of what surrounds us and the search for identity through painting. This trail begins in her subconscious and is completed with visiting museums, the reinterpretation of genres such as portrait or landscape, literature of the nineteenth century and cinema. Her final work is shown through the representation of reality and the passionate love of pictorial language.
Now, at the collective collection selected by Adam Baumgold Gallery, you can admire her art among the works of other artists. The selected works are her Romanov Series which are based upon old black and white photographies of the Russian Zar's daughters: Anastasia, Tatiana, and Olga. Captivated by them, she was inspired to explore concepts such as beauty, youth, and isolation. These paintings that naturally flowed from her will provoke an array of emotions to those who view them.
Romanov Series:
Anastasia. Oil on canvas, 35 x 27 cm. 2010
Olga. Oil on canvas, 35 x 27 cm. 2010
Tatiana. Oil on canvas, 35 x 27 cm. 2010
Visual arts
New York
Mar 16, 2012 – Apr 21, 2012
Venue
Phone
212-861-7338
More information