Joan Miró From the Collection of The Kreeger Museum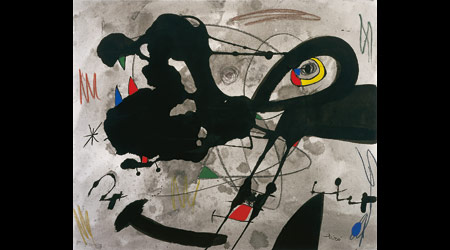 An intimate special exhibition that marks the first time Kreeger's complete collection of Miró works will be on display, including The Mallorca Suite, Makimono, and El Vol de l'Alosa (The Flight of the Lark).
Joan Miró was the consummate professional artist, a perfectionist, who insisted he was a "self-taught amateur" in order to secure for himself permission to transgress traditional techniques —to experiment and improvise— especially in pursuit of printmaking as a medium for his breathtaking expressions of devotion for Catalan culture. His beloved Mallorca, the sunlit island where he lived and worked after 1940, was the subject of such inventiveness.
Purchased in 1973 by David and Carmen Kreeger when they attended Miró's 80th birthday celebration in Palma de Mallorca, The Mallorca Suite is an unconventional masterpiece by one of Spain's greatest artists, and The Kreeger Museum is believed to be the only place in the United States where a complete set of the suite may be seen.
Added to the set are color states of each etching, black states and technical (or reverse) prints. Inclusion of these decompositions offers viewers the exceptional opportunity to see the work evolve, as the artist himself did in 1973. Miró saw on the pages the familiar faces of people who lived and worked, as did he, on this Mediterranean island. We are not meant to recognize them; we are only to experience delight in scrutinizing the emergence of visages we shall never know but will never forget. The etched title page and a full color gouache painting puts the exclamation point on the entire display that is The Mallorca Suite of 36 images by Joan Miró.
Don't miss the related concert: Sounds of Catalonia – Experience the Music and Culture of Spain
Visual arts
Washington, D.C.
Apr 10, 2012 – Jul 31, 2012
Venue
Phone
202-337-3050
More information
Credits
Image: Joan Miró, The Mallorca Suite (Sèrie Mallorca), 1973. Gouache, 17 x 25 inches. From the Kreeger Museum Collection.