2012 DC Independent Film Festival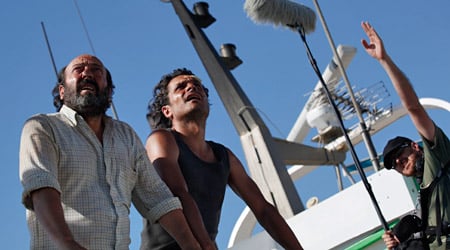 A documentary and two short films from Spain announced as official selections at the 2012 DCIFF Festival.
The DC Independent Film Festival is an all-volunteer non-profit launched in 1999 to nurture independent film. As the oldest independent film festival in Washington, DCIFF has a storied history of presenting extraordinary films. Join us for the 14th Annual Festival in the Nation's Capital for a selection of outstanding films, special events, and workshops.
The 2012 Festival will open on Leap Day (February 29th) and run through March 4th. Out of nearly 1,000 submissions, 47 films were selected to be part of the Festival's program. Although they represent the work of artists from more than 20 countries and cover a wide array of genres, this diverse selection of films share an independent spirit. Films will compete to win juried awards in a number of different categories, as well as the coveted Audience Awards, given to festival-goers' favorite submissions, at the closing ceremonies on Sunday, March 4th.
The following Spanish Films are part of the DC Independent Film Festival's official selection:
Machine Man (Hombre Máquina)

On Saturday, March 3rd, from 5 to 7:30 pm - Documentaries / The Impulse to Create and Connect.
A reflection on modernity and global development. Men as machines. The use of human physical force to perform work in the XXI century. The film takes place in the capital of Bangladesh, where the 'machine men' execute different physical works, a mass of millions of people who become the driving force behind the city. Spain, 15 minutes, directed by Alfonso Moral and Roser Corella.
Adrift (Deriva)

On Sunday, March 4th, from 12:30 to 2:30 pm - Short Films.
A father and son fishing team stumble across a body floating in the water. Simultaneously radar fails. As they retrieve the floating body, the answers are more frightening than the questions. Ángel Tirado lives and works in Seville (Spain). His filmography started in 1992 with the video art work titled "Naturaleza Muerta". Since then he has been producing and directing films and exploring graphic design, video games and multimedia. He has won numerous awards, taken part in many International and Spanish Film Festivals and represented Spain in two Young Creators International Biennials. Spain, 2010, 18 minutes, directed by Angel Tirado.
Error 0036

On Sunday, March 4th, from 12:30 to 2:30 pm - Short Films.
It's the year 2057 in Madrid. Technology provides humans with a life full of comforts, supposedly without error. Jorge Arellano finds himself trapped in his house by the very same devices that guaranteed his security. Director Raúl Fernández Rincón lives in Madrid where he has been working in TV since 1995. A cameraman with a extensive TV experience, he has worked for the national TV channels in over 25 progammes, many of which were prime-time and top rating. He focused on documentary work from 2002 onwards working on over 70 documentaries, many directed by him, filmed in 52 countries.. Spain, 2011, 12 minutes, directed by Raul Fernández.
Film
Washington, D.C.
Feb 29, 2012 – Mar 4, 2012
Venue
Naval Heritage Center, 701 Pennsylvania Avenue Northwest, Washington D.C., District of Columbia 20004
View on Google Maps
Phone
202-737-2300
More information