Daniel Canogar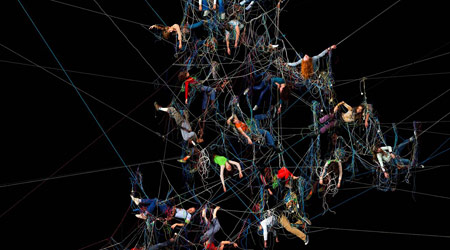 Madrid-based artist Daniel Canogar exhibits at Second Street Gallery in Charlottesville, Virginia, during March 2012.
Daniel Canogar has exhibited in New York, Madrid, Lisbon, Berlin, Milan, Barcelona, the Andy Warhol Museum in Pittsburgh, and the Sundance Film Festival.
He is perhaps best known for his sculptural projections that explore the short lifespan of technologies that we use everyday. He often uses the detritus of the modern age: discarded materials such as video tape, computer parts, lenses, bulbs, phone wires and modern cables, to build 'portraits' of modern life.
Canogar will visit Charlottesville for a week at the end of February to install site-specific pieces in two galleries, and give talks at the public opening and other events.
Second Street Gallery, founded in 1973, is a nonprofit contemporary gallery located in Charlottesville, Virginia, focussed on presenting the best in new art and ideas, and providing educational outreach programming.
Exhibition opens Friday, March 2nd from 5pm to 7:30pm and is free to the public. The artist will give a talk in the gallery at 6:30pm. Second Street Gallery's opening hours are Tuesday to Saturday from 11am to 6pm.
Visual arts
Charlottesville, VA
Mar 2, 2012 – Mar 31, 2012
Venue
Phone
434-977-7284
More information