'Chico & Rita' in New York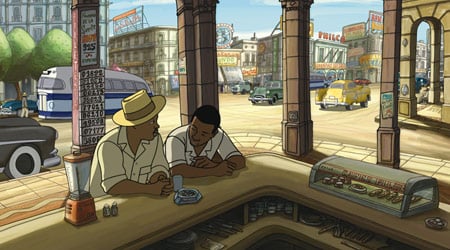 Chico & Rita, a gifted songwriter and beautiful singer chase their dreams —and each other— from Havana to New York and Las Vegas.
Exuberant! Breathtakingly beautiful! A visually hypnotic, musically electric film!"

—The Hollywood Reporter
Magnificent! Delicious! Ravishing!

—The Telegraph
A sexy, soulful animation for grown-ups! All buzz, color, and sublime jazz, Chico & Rita is an instant classic!

—Total Film
Oscar-winning director Fernando Trueba (Belle Epoque) and Spain's most famous and successful designer Javier Mariscal create a passionate and animated love story. Close collaborators and friends for many years, Trueba and Mariscal celebrate their passion for the music and culture of Cuba with an epic story of love and heartbreak, set against the color and bustle of Havana, New York, Las Vegas, Hollywood and Paris in the late 40's and early 50's.
In Chico & Rita, Chico is a young piano player with big dreams. Rita is a beautiful singer with an extraordinary voice. Music and romantic desire unite them, but their journey &in the tradition of the Latin ballad, the bolero& brings heartache and torment.
With an original soundtrack by legendary Cuban pianist, bandleader and composer Bebo Valdés, Chico & Rita captures a definitive moment in the evolution of jazz music. The film features music by jazz legends Thelonious Monk, Cole Porter, Dizzy Gillespie and Freddy Cole (brother of Nat King Cole).
Chico & Rita opens February 10th at the Angelika Film Center in New York City. Q&A with the directors on opening weekend. In Spanish with English subtitles.
Film
New York
Feb 10, 2012 – Feb 24, 2012
Venue
Phone
212-995-2570
More information