Spaniards in Hollywood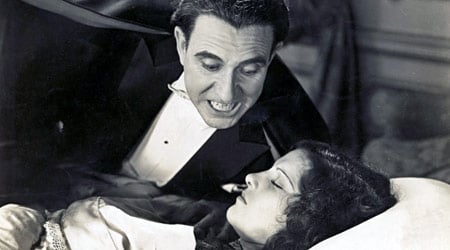 A series of films selected by the film historian Román Gubern that show the influence of Spanish filmmakers in the mecca of cinema.
The films are a historic journey through a century, with particular focus on the twenties and thirties. They bring to life the work of some of its most famous actors and actresses —Antonio Moreno, Raquel Meller, Catalina Bárcena— as well as the novelists who inspired the Hollywood scripts —Blasco Ibáñez, Jardiel Poncela.
Drácula

On February 1st at 6pm. In Spanish with English subtitles.
By George Melford (USA, 1931, 102 minutes). Cast: Carlos Villarías, Lupita Tovar, Barry Norton, Pablo Alvarez Rubio, Eduardo Arozamena.
In the early days of sound, it was common for Hollywood studios to produce Hollywood foreign-language versions of their films (usually in French, Spanish and German) using the same sets, costumes… Unfortunately, most of these foreign language versions no longer exist. The Spanish version of Dracula is an exception. It was made by George Melford, who simultaneously filmed the movie using the same sets at night. In recent years this version's supporters consider it to be much more artistically effective.
Mamá

On February 8th at 6pm. In Spanish.
By Benito Perojo (USA, 1931, 80 minutes). Cast: Catalina Bárcena, Rafael Rivelles, María Luz Callejo, Julio Peña, José Nieto.
Santiago and Mercedes are an upper middle-class married couple. She is frivolous, selfish, and uncaring when it comes to their children .As a result of a gambling debt, she gets herself into a situation, because she does want to go to her husband, where she has to seek a loan from the heartthrob Alfonso de Heredia, leading him to believe that the payment will be sexual. Their son, knowing the situation, asks the father for a check, but he realizes the true purpose for the money and decides it is Mercedes who has hatched the plan. He throws the accusation in her face and orders her never to come near their children again. After this, Mercedes begins to realize her position as a mother and a wife.
La Gitana Blanca (The White Gipsy)

On February 15th at 6pm.
By Ricardo de Baños (España, 1923, 74 minutes). Cast: Raquel Meller, Asunción Casal, Luisa Oliván, Lucien Aristy, Juana Sanz, Francisco Aguiló.
A shortened version and re-edit of the first production of the Royal Films of Barcelona, titled Los arlequines de seda y oro (1919). The fame achieved by the star, Raquel Meller, as a popular singer in Paris in the years following the World War I must have influenced those in charge at Royal Films to recycle materials from the original film and release a different movie. This version keeps the original main plot, which chronicled the romance between a gypsy and a bullfighter, drawing on Spanish topics typical of such characters.
La tierra de todos (The Temptress)

On February 22nd at 6pm. Silent movie with English intertitles.
By Fred Niblo (USA, 1926). Cast: Greta Garbo, Antonio Moreno, Roy D'Arcy, Marc MacDermott, Lionel Barrymore, Virginia Brown Faire.
Based on a novel by the Spaniard Vicente Blasco Ibáñez (Sangre y arena), La tierra de todos was Greta Garbo's second film in Hollywood and the one that established her magnetic character as a vampire who destroys the lives of those men who do not care to resist her charms. The actress plays a marquise who after some romantic scandals decides to settle in Argentina, where she meets a young architect who'll fall under her charm.
Angelina o el honor de un brigadier

On March 7th at 6pm. In Spanish.
By Louis King (USA, 1935). Cast: Rosita Díaz Gimeno, José Crespo, Enrique de Rosas, Julio Peña, Rina de Liguoro, Juan Torena, Andrés de Segurola.
Angelina, daughter of Don Marcial, a brigadier, escapes with Germán on the day of her engagement. Her father and Rodolfo, the abandoned fiancé, follow after them. Don Marcial challenges Germán to a duel and wounds him, after which he realizes that his wife, Marcela, was also cheating with the young man. The brigadier's honor sullied, he decides to take drastic measures.
Film
New York
Feb 1, 2012 – Mar 7, 2012
Venue
Phone
212-308-7720
More information