'El Bulli: Cooking in Progress'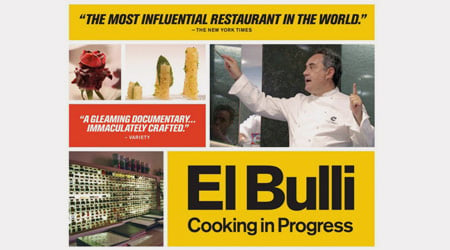 Screening of El Bullo: Cooking in Progress, introduced by Cleverley Stone, Talk 650 CBS Radio. Houston Premiere.
For six months of the year, renowned Spanish chef Ferran Adrià closes his restaurant El Bulli —repeatedly voted the world's best— and works with his culinary team to prepare the menu for the next season.
El Bulli is a Michelin three-star restaurant in Roses, Spain (two hours northeast of Barcelona); each night, it serves a tasting menu of 30+ courses, prepared by over 40 chefs, to a single seating of up to 50 guests. For the current season, its last before transforming into a culinary academy, over two million requests were received for the 8,000 available seats.
Head chef Ferran Adrià, who took over the restaurant in 1987 and instituted the tradition of yearly developmental sabbaticals, has become the leading inspiration for avant-garde cuisine worldwide, alternately referred to as a mad scientist or Salvador Dalí of the kitchen.
An elegant, detailed study of food as avant-garde art, El Bulli: Cooking in Progress is a rare inside look at some of the world's most innovative and exciting cooking. As Adrià himself puts it, "the more bewilderment, the better!"
Showtimes: Friday, February 3rd at 7:00 pm; Saturday, February 4th at 1:00 pm and 7:00 pm; Saturday, February 11th at 1:00 pm.
Film
Houston
Feb 3, 2012 – Feb 11, 2012
Venue
Phone
713-639-7300
More information