'Bicycle, Spoon, Apple'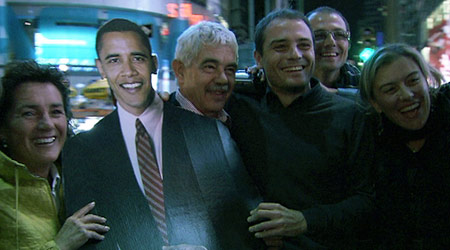 Film screening followed by a panel discussion in collaboration with Alzheimer's Association Houston & Southeast Texas Chapter.
The Alzheimer's Association Houston & Southeast Texas Chapter in collaboration with the Festival of New Spanish Cinema of Houston is honored to present a panel discussion on the occasion of the screening of the film Bicycle, Spoon, Apple by Oscar-nominated Carles Bosch.
As both the former mayor of Barcelona and former president of Catalonia, Pasqual Maragall has been a popular leader for the people of Spain. In 2007, this charismatic public figure was diagnosed with Alzheimer's. Bicycle, Spoon, Apple is an up-close and personal account of his decision to go public with this revelation, of his steadfast determination to beat the disease, and of the strength and support of his family (including his optimistic wife Diana Garrigosa) during his struggle to fight it.
Following Maragall for two years, director Carles Bosch (who helmed the Oscar-nominated documentary film Balseros) creates an intimate portrait of the man and his family, expanding his focus to doctors and scientists for a more complete picture of Alzheimer's, its myths, and the current state of research. The title comes from three words used to test patients' memories, and is used in one of the more affecting scenes in which we see the stoic Maragall crumble ever so slightly when he can't recall them.
By bringing us so deep into the life of an Alzheimer's sufferer, Bosch demystifies the disease —resulting in a documentary that's sure to leave viewers forever changed.
Film screening of Bicycle, Spoon, Apple (Bicicleta, cullera, poma) at 6 pm. In Catalan and Spanish with English subtitles.
Panel discussion and reception with Dr. Gustavo Roman (Alzheimer's researcher) and Ms. Connie Assiff (Caregiver) at 8:30 pm.
This special event is part of of the 4th Annual Festival of New Spanish Cinema in Houston.
Film
Houston
Jan 27, 2012
06:00 pm
Venue
More information