Retrospective: Les Filles Föllen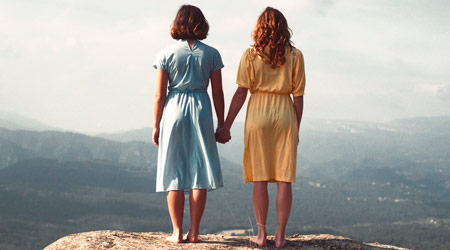 Farewell tour party and closing performance by Catalan Duet Les Filles Föllen at the Chelsea Modern Gallery.
Join us on January 24th to celebrate the goodbye party of Les Filles Föllen, the Catalan duet which has been visiting New York from December 25th to January 25th. Les Filles Föllen show part of their work, offer a Catalan appetizer and say goodbye at the Chelsea Modern, at Fareen Butt's Gallery.
Les Filles Föllen are Tuixén Benet (Barcelona, 1985) and Margherita Bergamo (Padova, 1980). They met at the Institut del Teatre de Barcelona in 2008. Although they come from two different life situations, over time they've found shared interests that led them to venture into a joint project around choreography, video and performing arts. Both had the desire and the need to transform, to exhibit themselves, to have fun and amuse others.
The scenic need of Les filles Föllen is stimulated by the state of the society they live in, a society which is the fertile ground where the seeds of creation are sown and an exuberant forest where a path can be made.
Les Filles Föllen received awards in Salerno, Italy (Salerno Creativa, 2010), in Madrid, Spain (Scena Simulacro, 2010) and they support from CoNCA and Institut Ramon Llull (Catalonia) in 2010 and 2011. They recently opened Espai Erre, a new artistic space in Barcelona.
Performing arts
New York
Jan 24, 2012
08:00 pm
Venue
More information