'Gabarrón's Roots'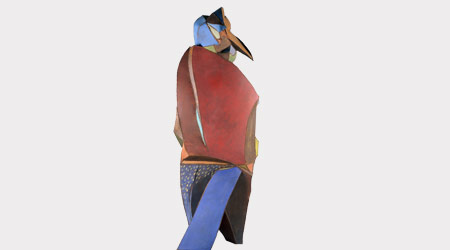 The sculptures and paintings of Cristóbal Gabarrón have been seen in hundreds of exhibitions around the world, but never in Washington, D.C.
Gabarron's vibrantly colored sculptures are larger than life, yet human in scale and effect, his painted tondos evoke archaeological and zoological mysteries.
The exhibition, beginning January 28, 2012 at the Katzen Gallery of the American University Museum of Washington, includes a careful selection of work by the Spanish artist Cristóbal Gabarrón, completed during the first decade of this century (2001-2010).
The international and humanist vocation of the artist —who was born in Mula (Murcia) and whose life in Spain has been punctuated by extended stays in various countries, including the United States— is embodied by this exhibition in a deliberate return to his homeland, and to those aspects that have, in some way, influenced his professional and artistic career.
Gallery talk with Cristóbal Gabarrón on March 3rd at 4 p.m.
Visual arts
Washington, D.C.
Jan 28, 2012 – Apr 15, 2012
Venue
American University Museum-Katzen Art Center, 4400 Massachusetts Avenue Northwest, Washington, DC 20016
View on Google Maps
Phone
202-885-5950
More information