Remedios Varo: Indelible Fables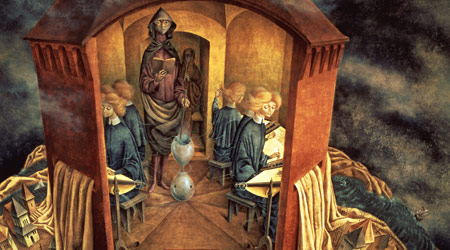 Nearly eight years in the making, Frey Norris proudly presents an exhibition gathering fifteen works by Remedios Varo, including oil paintings, drawings, objects and ephemera.
Personally, I do not think I am endowed with special powers, but rather an ability to see the relations of cause and effect, beyond the ordinary bounds of common logic.

—Remedios Varo
Remedios Varo (Girona, Spain 1908) was a surrealist painter and anarchist. During the Spanish Civil War she fled to Paris where she eventually moved with her second husband, the French surrealist poet Péret. In 1941 she was forced into exile during the Nazi occupation of France and moved to Mexico where she developed and matured her enigmatic and instantly recognizable style.
This exhibition brings to light Varo's legacy. While her paintings have been interpreted as more surrealist canvases, product of her passion for mysticism and alchemy, her work carries implications far more significant.
Visual arts
San Francisco
Jan 7, 2012 – Feb 26, 2012
Venue
Phone
415-346-7812
More information