'La Bestia'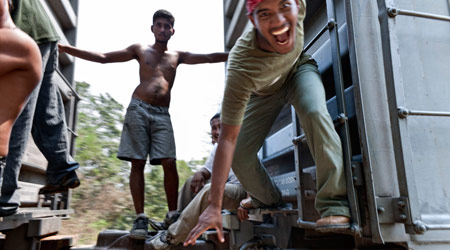 Photographies by Isabel Muñoz at Centro Cultural Español Miami (CCEM).
This exhibition is born through the personal project by Isabel Muñoz along the trips to the southern border of Mexico that she have done during the last three years. Accompanied by the Salvadoran journalist Oscar Martinez, she has visited the cities of Arriaga, Chiapas and Ixtepec (Oaxaca) and she has make the trip between these last two cities, riding on the train trip accompanying the Central Americans migrants.
The exhibition aims to describe the journey of the migrant from the perspective of Isabel Muñoz and his companions. Human relations and personal stories are portrayed up a map that is drawn not traffic only from the migrant, but those who are watching it now.
In this sense, the curatorial proposal aims to generate three levels of reading; not to exhaust the form of transit migration context bringing together Mexican and Central American in the trip, but to generating and understanding visual shots from different places than the conventional ones.
The first level of reading is generated by the selection of photographs, which consider the contextual description of the territory and generally the situation developed from the train, but at the same time will putting specific histories and face to encompass a "real time" to the usual development, the daily life of the border. The second level of reading involves the recording video made by Andrew Olivares and Eduardo Villalobos. Including a video in the exhibition helps us to establish another rate to count the journey that involves taking the train at the southern border. Through a point of documentation, the third level is looking to offer tools to the visitor to provide a broader understanding of this phenomenon.
Opening on Wednesday, May 9th at 7pm. Admission is free.
Visual arts
Miami
May 9, 2012 – Jun 30, 2012
Venue
Centro Cultural Español Miami (CCEMiami), 1490 Biscayne Blvd, Miami, FL 33132
View on Google Maps
Phone
305-448-9677
More information