'Archimobile.' The creative archive of Matadero Madrid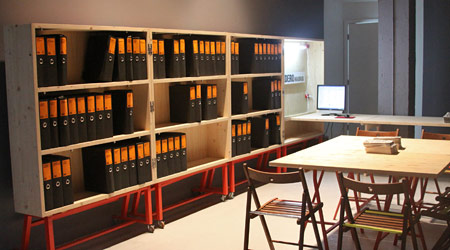 The CCEM presents the most effective way to know the work of the best young creators living in Madrid: Archimobile for the first time in U.S.
Archimobile is a billboard, a documentation center and a work of art in of itself. Housed inside it is the work of 100 artists of 16 different nationalities, all somehow connected to the city of Madrid.
Paintings, photography, installations, videos, architecture, drawings illustrations and more are incorporated. Archimobile serves as a window to current creative trends for cultural institutions, both national and international, and aims to aid the collaborating artists in their search for exposure by improving their accesibility.
Archimobile, designed by El Último Grito, has two missions: making information accessible, and maintaining integrity as a constant goal. Archimobile has a face that it shows to the public and another that it saves for private. The front of the structure opens up, turning into a billboard that advertises itself, while inside it offers all the services required to view the archive, explain the designers when asked about this mobile piece.
Curated by Gean Moreno. Artist invited: Maya Watanabe. Entry by the patio located in 15st and Biscayne. Free Admission.
Visual arts
Miami
Dec 2, 2011 – Feb 29, 2012
Venue
Centro Cultural Español Miami (CCEMiami), 1490 Biscayne Blvd, Miami, FL 33132
View on Google Maps
Phone
305-448-9677
More information