Artist Talk: Frederic Amat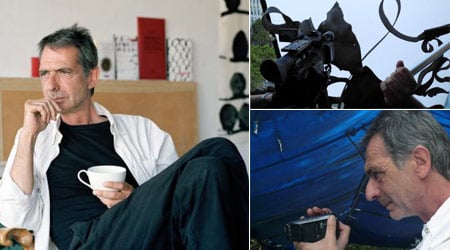 Barcelona artist Frederic Amat in conversation at REDCAT, Los Angeles.
CalArts President Steven D. Lavine welcomes Barcelona artist Frederic Amat —painter, sculptor, filmmaker, scene designer— for a lively talk on the convergence of influences in the Catalan artist's wide-ranging practice and the dynamics of producing creative work across various media.
Frederic Amat will be introduced by and in conversation with Selma Holo, the author of Beyond the Prado: Museums and Identity in a Democratic Spain and the director of the USC Fisher Museum of Art and of USC's International Museum Institute in the College of Letters, Arts, and Sciences. Amat's presentation at REDCAT includes a screening of his newly completed film on Catalan architect Antonio Gaudi.
Amat, the subject of retrospectives in the Museo Rufino Tamayo in Mexico City and the Miró Foundation in Barcelona, has put forward an open concept of painting that has allowed him to create, among many other projects, set designs for dance and theater stagings of texts by García Lorca, Beckett, Koltès, and Octavio Paz.
Ticket prices: $10 general; $5 students.
Visual arts
Los Angeles
Dec 13, 2011
08:30 pm
Venue
REDCAT | Roy and Edna Disney/CalArts Theater, 631 West 2nd Street, Los Angeles, CA 90012-2599
View on Google Maps
Phone
213-237-2800
More information