'Joaquín Sorolla & the Glory of Spanish Dress'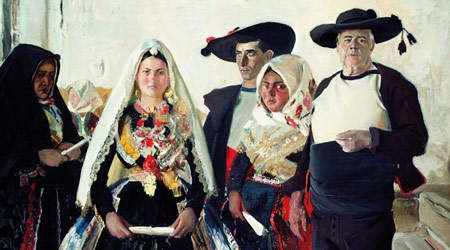 Queen Sofía Spanish Institute presents a seminal exhibition analyzing the rich history of Spain's regional clothing styles through the monumental paintings of Valencian artist Joaquín Sorolla y Bastida (1863-1923).
For the first time, Sorolla's vivid depictions of Spanish life will be shown side by side with the types of costumes they portray.
Conceived by Oscar de la Renta, Chairman of the Institute's Board of Directors, and curated by Vogue's André Leon Talley, the show will feature more than ten paintings and over thirty rare examples of men's and women's clothing and accessories. In an unprecedented partnership with the Ministry of Culture of Spain, the exhibition will highlight costumes and artwork never before exhibited in the United States. In addition, a selection of pieces from important contemporary designers will demonstrate Spain's enduring influence on fashion.
In 1911, Sorolla was commissioned by The Hispanic Society of America to paint the mural Vision of Spain. Groundbreaking in both scope and scale, the massive painting cycle focuses on rural life and its customs. The artist dedicated eight incredibly productive years to this ethnographic study, and the resulting work, along with the hundreds of preparatory studies it generated, has become an important map of diverse regional identity, representing Spain in all its glory.
The accompanying catalogue —featuring forewords by Oscar de la Renta and Harold Koda, curator in charge of The Costume Institute, and an introduction by André Leon Talley— will consist of an anthology of essays on Joaquín Sorolla and Spanish regional dress by prominent scholars in the fields of art history and costume studies. Available for sale exclusively at the Institute.
Joaquín Sorolla and the Glory of Spanish Dress will be accompanied by a series of related public programs. Please email for more information about upcoming programming and educational or group visits.
Visual arts
New York
Dec 8, 2011 – Mar 10, 2012
Venue
Phone
212-628-0420
More information